HP has nailed this time by announcing their extremely thin, definitely world's thinnest laptop – Specter 13.3 at the New York Times Luxury Conference. HP caught the eyes of most visitors at the event held at Versailles, France by launching the razor thin laptop, measuring just 10.4mm! Well if you can't imagine the size then just think about the size of a normal AAA sized battery and mostly a pencil.
We can now say that, the Specter 13.3 has jumped past against the likes of the new Macbook and 14-inch LG gram in terms of thickness which measures 13.1mm and 12.7mm respectively. Well the thickness of the Specter 13.3 has probably helped the laptop to maintain a feather weight, the laptop weighs just 1.1 kg due to a carbon fiber chassis.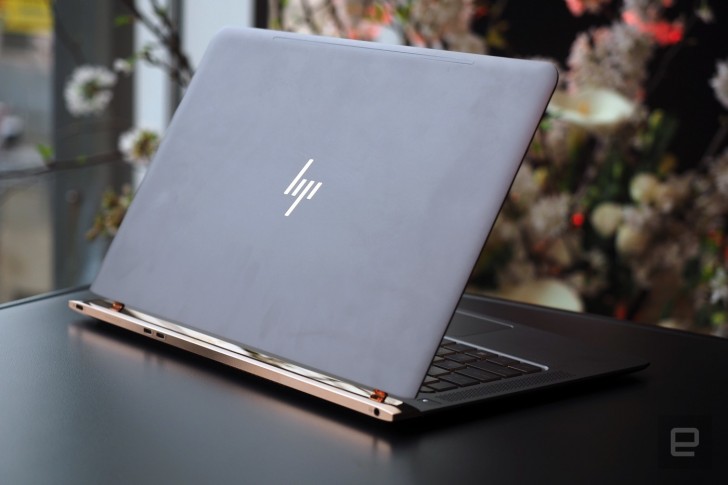 What's more surprising is that HP has pretty much managed to fit in some decent computing power into such thin body. The Specter 13.3 features a 13.3-inch 1080p edge to edge display and is available with both i5 and i7 processor variants alongside 512GB of flash storage and 8GB of RAM.
Also Read: Clevo NH70 Review: Detailed Analysis of Specs, Targeted Users & More – Enepsters
It's quite interesting to see that HP has also managed to fit in Bang & Olufsen sound and a battery, which as claimed by HP is capable of lasting up to 9.5 hours on a single charge. HP has thankfully integrated three USB-C connectors, which is quite impressive since the new Macbook featured only one USB-C port.
The futuristic design of the laptop will definitely lure in most of the tech lovers out there. As HP also had some words at the luxury event about the design of it's futuristic ultra thin laptop:
high gloss copper accents reflect a hand-polished, jewelry-like finish and an innovative hidden piston hinge creates the illusion of a hinge-less design to offer an unmatched premium look-and-feel
There are the two limited edition of the laptop. The one notably being the Specter by Tord Boontje which includes floral design, a butterfly and a peacock. The second one is by J. Hannah, which is 18K gold plated and to be precise, most of the part of the laptop are gold too. And to make things more expensive, the logo and power button is engraved with diamonds.
As stated by company, both of these luxury models will be produced in limited numbers and will be auctioned at Cannes Film Festival which is going to be held in May and the cash collected from the auction will be donated to Nelson Mandela Foundation. Well, if you were thinking to buy the limited edition of the Specter 13.3 then you are out of luck but the non-limited or normal model will be available for pre-orders on April 25 in the US at the price tag of $1,170 (Well of course, you have to pay premium to buy such beautifully crafted piece of tech).
Source: Engadget