Apple has showcased its iOS 10 with major changes. As claimed by Apple, its the biggest iOS release till date, so lets take take a look at its major new features which Apple presented during its WWDC event:
1. User interface
The user interface of iOS 10 has been modified in a proper way, so that it can take maximum advantages from its 3D touch feature. The lockscreen has been redesigned, now it supports productive feature like pick up to wake, easy access to the camera from lockscreen – just swipe left. What's interesting is that Apple has finally added the lockscreen widgets, which Android mostly dumped a longtime ago.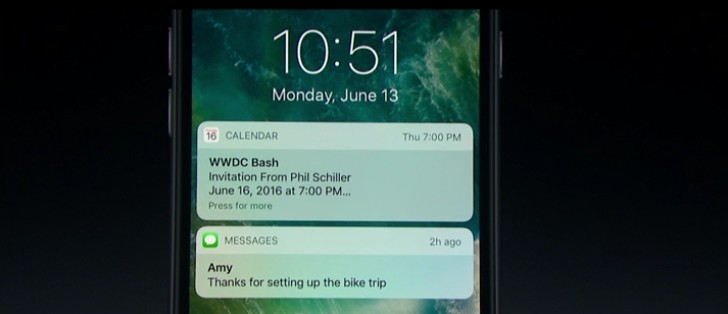 Other noticeable changes includes the redesign of the notification area which implies bubble like looks for notification as well as the new widgets. Control center is not a new feature for Apple, being implemented couple of years ago Apple has redesigned the looks of control center as well. The new control center with bubble looks now includes two options – one for toggling the settings, whereas the other for toggling music. There is a third control center tab too, which can be accessed by using the new Home app by Apple.
With new user interface Apple has optimized and has taken almost full advantage of its 3D Touch function. Users using 3D Touch can now peek more information from notification as well as apps from the homescreen. If you are seeing some interesting content then just snap it as a widgets to the brand new today page which can be found on the left side using 3D Touch.
What's more interesting is that iOS 10 will now let you uninstall the stock apps that you never use.
2. Siri
The voice assistant from Apple got some important update with new features, most importantly the biggest update is that Apple has opened Siri to developers which will open doors to many exciting features in coming days. For instance, you can send message from third party messaging apps, which was absent from previous build.
Other noticeable features includes, searching photos via third party photo apps, make VoIP calls or even send payments to other.
3. QuickType keyboard
There was no problem with Apple's current keyboard, however Apple has made some important changes to its keyboarding app. The keyboard can now predict what you are going to say or reply with an answer, the keyboard can now read through your messages, share your location, it also remember your recent addresses and even suggests you to create events. The keyboard now also supports multilingual typing, which is already being enjoyed by most of the Android users.
4. Photos
Apple has updated its Photos app alongside iOS 10 as well. While it maybe new for hardcore iOS users, Android users will find it pretty much familiar. In case you are wondering about the update, the app now basically show your photos on the map, it can be sorted by the faces of your friends.
One familiar but cool feature include, AI sorting in Memories, which basically scans all of your photos and sorts them in album created by the AI automatically in terms of landmarks, people, animals and other tags.
5. Maps
Alongside the Photos app, the Maps is also getting some changes with the new updates. The Maps is updated with new Map layers, smarter and more precise assistance. The new updated Maps support extensions too which can basically help you by suggesting you the fastest route available following all the aspects of the traffic of your area.
6. Apple Music
Apple Music has basically a new user interface, which will definitely make your music browsing experience a bit more easy by organizing and refining your musics.
7. News
Like the Music app, the News app has also a new user interface. Now it can create and refine subtopics for users, to make things clear, it basically creates a separate topic according to your choice – i.e. if you like UEFA Champions League, the app will automatically create you the topic for it.
Now, the News app supports subscription system which will let you receive all the free and paid content in one app. Apple has also added the "Breaking News" notification on the homescreen, which is a welcome change for us.
8. Home app with powerful Home Kit
Apple has been controlling your smartphone for some decades. Now the smartphone giant wants to control basically everything in your home through the new Home app. The app supports almost every smart electronic accessories which can be easily controlled from your phone. You can now basically control everything, including bulbs, doors, locks, cameras, air conditioners, outlets, fan, doorbells and many more. The Home app has support for 3D touch as well.
The control center with third tab is separately integrated for the new the Home app, which can be used to toggle your most used accessories.
9. Phone
It's good to know that Apple has made some good modifications to its Phone app, as well. Now all VoIP apps can use the same calling/answering screen as your default phone app. If you are using Viber or Skype to make calls then you will soon notice the same full-screen notification with a photo and a answer slider.
Other small but important change include an ability to choose the app you want to use to call a number of your choice.
Apple has also added some cool but important functionality. The voice mail now show you the full written message if you choose to. It can also now detect if a voice mail is a spam or not.
10. Messages
Last but not the least, the default messaging app has been optimized and improved. Firstly and quite fore mostly, the messaging app now supports GIF images as well as video playback, the feature is integrated into the app, which basically means that the supported media file can be viewed or played right inside the app.
Secondly, now you don't have to leave the messaging app just to access your photos and camera, users can just access it within the app.
The messaging app now supports 3x bigger emojis and you can replace the word with emojis by tapping on them. User can apply various effects to their iMessages – opting in for effects like scratch to reveal. Other effect include full messaging screen like fireworks.
Finally, the Messaging app supports handwritten messages alongside digital touch option. Maybe the stickers are also coming with the new messaging app.
Apple has opened the messaging app to developers too, which can bring a lot of small iMessage apps integrated right inside the app (just like Facebook Messenger). The feature will surely enhance your experience.
iOS 10 Privacy
Apple has always been one step ahead in terms of privacy, and this time it is no exception. The upcoming iOS 10 has end-to-end encryption, all processing and suggestion are occurring on the device, so there is no traces of your usage in the cloud or even on Apple's own servers. User's privacy data is not shared between apps and are kept confidential.
Release Date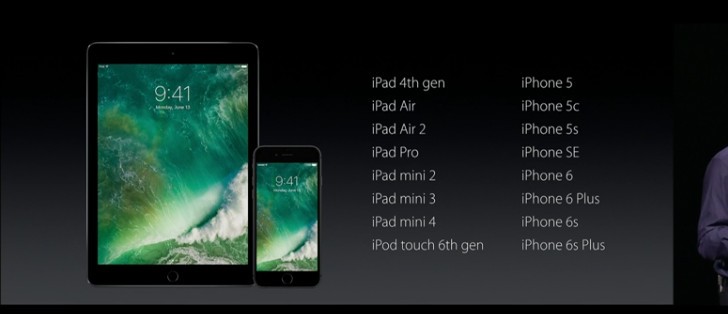 The new iOS 10 will be pushed in for iPhone 5 and later as well as iPad 4 or later alongside iPad mini 2 or later and iPod Touch 6 or later. As mentioned, the open beta will be available for beta tester in coming month, whereas the developers will get the early version right now.