Sammy Traders, the official distributors of Allocacoc products in Nepal is set to launch eight new products at CAN Info-Tech 2018 (Stall no. T-48). The list of unique products includes Heng lamp, Flashlight, LightCube, Earbeans, new Powerbank slim, PD Car Charger, Flat HDMI cable (with 4k support), and Modular Notebook (leather and polyester).
As stated by Sammy Gurung, CEO of Sammy Traders, the aforementioned products will be available for pre-booking from the stall, while they will go on sale in Nepal from 1st or 2nd of February, 2018.
Let's take a brief look at all products.
Heng Balance Lamp
The versatile lamp from Li Zanwen is a Red Dot Award winner. Don't let the word; "Lamp" fool you. It's ain't your ordinary lamp. While most of the lamps are controlled by flicking a switch, the Heng Lamp is done with two wooden balls. When you lift the lower wooden ball, it will be attracted by the hanging one, thus switching on the light. Despite the fact that it is no ordinary, the Heng Lamp could be a nice addition to your bedside.
Allocacoc Flashlight
This flashlight from Allocacoc can not only act as your ordinary flashlight but also as your table lamp, bicycle light, or simulate an ambience with a nightlight or candle simulator. It also comes with a brightness level selector which can be done through a press of a switch. The rechargeable flashlight from the company can be pre-ordered from the stall of Sammy Traders at CAN Info-Tech 2018.
LightCube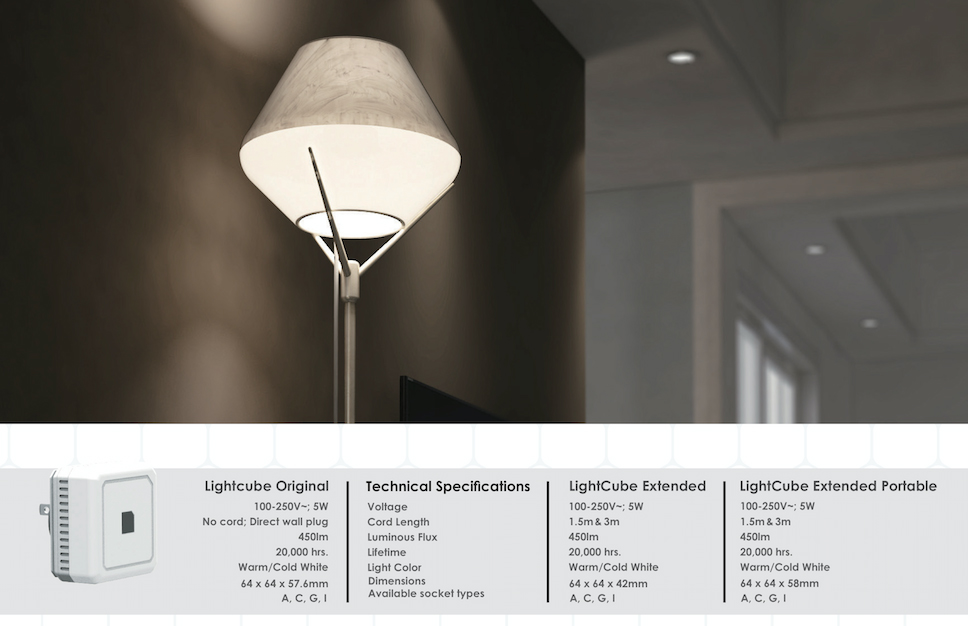 The LightCube is some unique piece of tech. The Cube form of shape emits light for your surrounding which can be plugged in any of your sockets and can be controlled through gestures. Wave your hand to turn on/off the Cube, or simply hold your hands to adjust the Cube's brightness. The portable LightCube can be extended through an extended cord, available alongside the package.
New Powerbank Slim
Measuring just 8mm in thickness, the New Powerbank Slim is an elegant but crucial accessory. With 5,000mAh of capacity, the powerbank can charge your iPhone X two times in a row. What's handy here is that it can be charged via micro USB or Lightning port, while shaking the 125gram of tech will let you know its battery level.
PD Car Charger
The PD Car Charger is something you would need while commuting. The USB charger can even charge high power devices like laptops, whilst the dual interface output of Type-C port and Type-A port can be handy for most of the users. And the aluminium and copper body is something you wouldn't see on your typical car charger.
Modular Notebook
A sheet of papers can't decide your future, but it definitely can look futuristic and modern. And the Modular Notebook is something you need the help from. The Notebook can be used to store your important papers, whereas the magnetic clips will protect your valuable papers from unwanted threats. On top of that, it's compatible with standard papers as well, eliminating the need for searching special papers.