Update: The app has been removed from Play Store as it turned out to be fake.
While the news of yoga guru Ramdev launching its own "Patanjali" SIM card is still circulating, the guy has once again gone on to showcase the company's next revelation, Kimbho messaging app. This move certainly proves that Patanjali Ayurved really wants to go beyond yoga and health solutions.
Mainly focused on for Indian users, Kimbho is an app that offers messaging and video calling solution. Although it's really early to call it as a direct competitor to WhatsApp, the company possibly wants to own the Indian messaging market currently dominated by WhatsApp (with over 200 million users). Even so even, the company has blatantly copied the logo of the popular messaging app.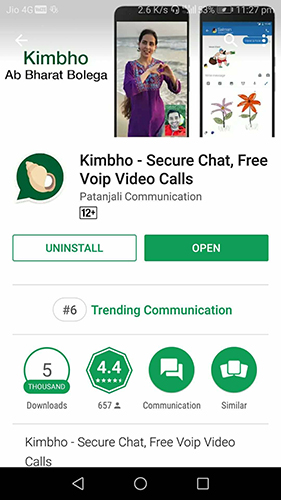 Or maybe, the company's just sticking to its root of being "Swadeshi" and wants Indian users to stop providing information to Mark Zuckerberg owned WhatsApp. Likewise, the description of the Kimbho app on Play Store states that they don't store any messages or data, unlike any other chat apps. The description also states that every message is encrypted by AES and has ghost chatting, auto delete messages, and wipe out feature.
Recently, Patanjali also partnered with BSNL to unveil Swadeshi SIM cards. The SIM card will be currently available for Patanjali staffs, however, a mass market launch is to be expected within coming months.