D-Lifestyles, the authorized distributors of Aprilia Motorcycle, have officially unveiled the SX 125 and RX 125 in Nepal with the price tag of Rs. 7,99,900. After the initial success with their scooters, the company now adds two dirt bikes all the way from Italy. The RX is the off-road version whereas the SX is the Motard and dual-purpose bike. Apart from that, all features are shared between them.
The hefty price tag of both bikes come with the distinctive design, performance, and advanced technology. The bikes look simple and minimalistic with nothing more going around them with all the required equipment to make it look authentic Italian bike.
Both bike house single cylinder 125cc 4-stroke, liquid cooled electronic injection, 4 valves engine that churns out 3 lb/ft @ 4000 RPM mated with the six-speed gearbox which can go up to 115 km/h. The bike complies with Euro 4 standards. They are equipped with a digital instrument panel for easy reading which can display travel diary, top speed recorder, battery voltage, and trip meter apart from common functions.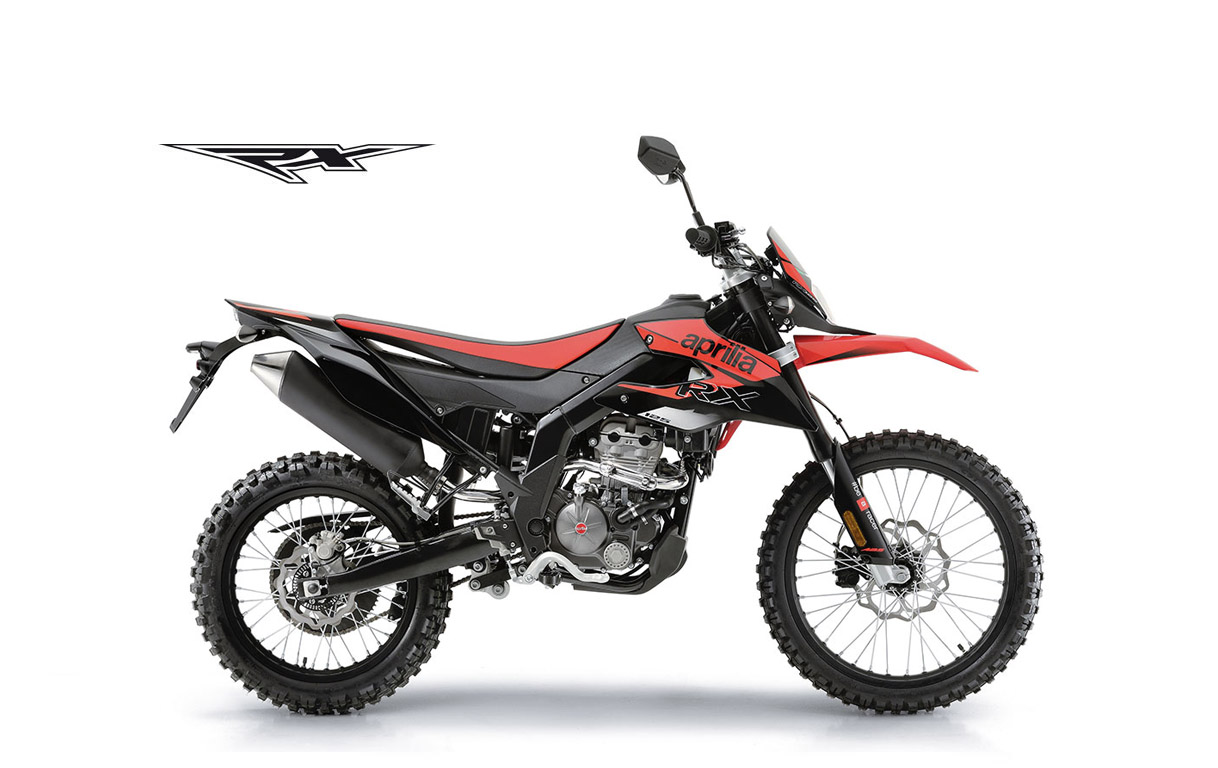 The bikes get double cradle steel frame with 41mm upside-down telescopic fork and hydraulic monoshock at the rear. The SX gets 17″ aluminum spoked wheels in front and the rear with a wide channel for maximum grip in any riding conditions. Whereas, the RX gets 21″ aluminum spoked wheels at the front followed by the 18″ at the rear which comes with anodized black hubs. Braking is taken care by 300mm front disc and a 220mm rear disc is assisted by double-piston floating caliper on both bikes. The seat height of the SX is 880m and 905mm on the RX. It can hold up to 7.5 liters of fuel with average mileage up to 35kmpl.
The safety on the bike is assisted by the BOSCH ABS system with an anti-roll-over mode which is first in the segment. The ABS provides total control in braking in the panic situation by not locking the wheels and the anti-roll-over adjust the lifting of the rear wheels in heavy braking condition.
Aprilia SX 125 Specs
Engine: Single cylinder, 4-stroke, liquid cooled electronic injection, 4 valves
Displacement: 124.2 cc
Frame: Steel perimeter frame
Front suspension: 41 mm telescopic upside-down fork; Wheel travel: 240 mm; High resistance steel swingarm
Rear suspension: Hydraulic monoshock absorber with progressive link system. Wheel travel: 220 mm;
Front brake: 300 mm stainless steel disc with floating caliper
Rear brake: 220 mm stainless steel disc with floating caliper
Front wheel: Aluminium spoked wheel. Tyre 100/80 x 17
Rear wheel: Aluminium spoked wheel. Tyre 130/70 x 17
Saddle height: 880 mm
Fuel tank capacity: 7.5 liters
Emissions compliance: Euro 4
Aprilia RX 125 Specs
Engine: Single cylinder, 4-stroke, liquid cooled electronic injection, 4 valves
Displacement: 124.2 cc
Frame: Steel perimeter frame
Front suspension: 41 mm telescopic upside-down fork; Wheel travel: 240 mm; High resistance steel swingarm
Rear suspension: Hydraulic monoshock absorber with progressive link system; Wheel travel: 220 mm
Front brake: 300 mm stainless steel disc with floating caliper
Rear brake: 220 mm stainless steel disc with floating caliper
Front wheel: Aluminium spoked wheel; Tyre 90/90 x 21
Rear wheel: Aluminium spoked wheel; Tyre 120/80 x 18
Saddle height: 905 mm
Fuel tank capacity: 7.5 liters
Emissions compliance: Euro 4