The signal receptors we humans have is the thing that's responsible for all our primary reflex actions. These receptors are what makes us react to a certain condition in a certain way. What's the context then? It's all about the evolution in charging technology. No matter which smartphone you carry around and no matter how big of a battery capacity it has, we all get anxious when the "Battery Low" message pops up and the signal receptors in our brain make us run towards the charging socket as soon as possible. That's when your cell phone is not actually a mobile device as it needs to be connected to the socket. That's the reason why all of us go crazy over fast charging, isn't it? So, is there any alternative then? So far, we've got wireless charging technology and to say the least, it leaves a lot to be desired.
Wireless Charging that we currently see around is not actually wireless and it actually reminds me of the cordless phones we had in the past that used to sit on a dock. This is just the beginning and there's a lot more to be implemented in the wireless charging technology.
There are actually three types of wireless charging with their own set of perks that lets you enjoy various degrees of wireless freedom. Here's a quick overview of the three wireless charging technology that we currently have in the market.
Inductive Charging
Inductive charging is already becoming a norm these days with more and more smartphones and wearable tech such as smartwatch and smartbands adding up to the list of devices with support for wireless charging. This technology uses a charging pad that sits connected to the electrical outlet while the device needs to be in contact with the pad or the dock. Which means, even if the device sits without a direct connection to the socket, you're still confined.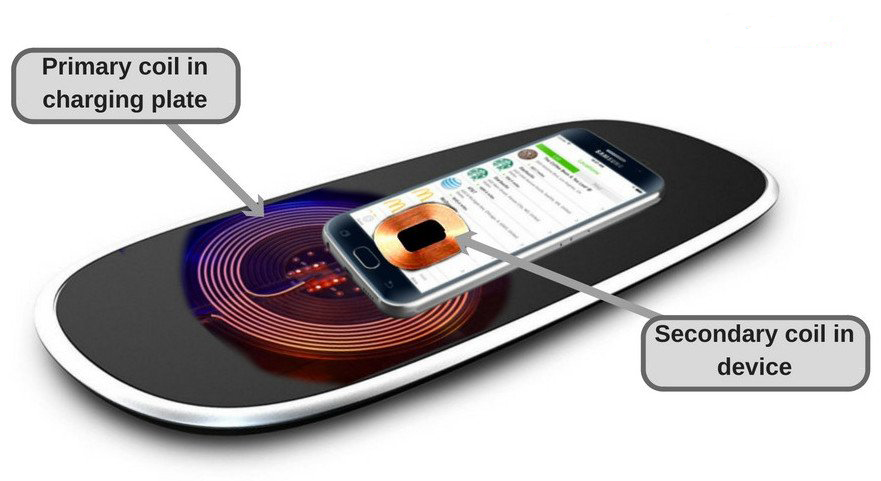 This technology makes use of a metal coil placed inside the device and another wireless coil inside the charger and when electricity passes through the charger generates electromagnetic waves that regulate the charge through the coil inside the device creating a magnetic loop that results in a charge. In order to get this thing working, a direct contact is mandatory. Not really wireless, is it?
Resonance Charging
A step up from the Inductive Charging but based on the same concept. While copper coils in Inductive Charging make use of a direct loop, in Resonance Charging it creates a magnetic field. And when the charger and the device (i.e. the copper coils inside both) operate on an identical frequency, the device picks up the magnetic field, resulting in a charge. This technology works at a greater distance over Inductive Charging. This is what makes me think of the future applications as it will lead us a bit farther from the power outlet.
One of the major examples of this technology is WiTricity, a company that makes electric cars that charge over the same system. In this case, the copper coils they use are way larger than what we see on a smartphone. And a greater size results in a bigger magnetic field that can move power over a greater distance. Their charging pads can deliver a magnetic field at a distance of one foot. The numbers are not huge but keeping in mind that a car can charge while it's parked over the pad, the practical applications seem endless and definitely a bit futuristic.
Radio Frequency Charging
Last but not the least, there's RF Charging or Radio Frequency Charging. Most of you might have already guessed it right by the name itself. This technology uses radio waves, with a transmitter or a centralized charging router that sends RF waves to the receiver that needs to be built into a device. The key difference between resonance charging and the RF charging is that RF uses radio waves instead of creating a magnetic field to transfer energy. Basically, it works like Wi-Fi.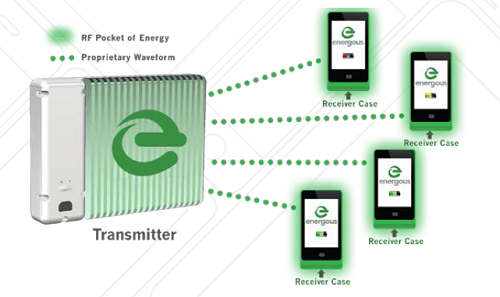 Current status of RF charging is that it delivers low power over a distance. However, this technology alongside the resonance charging technology has the potential to take the wireless charging technology by a swirl. Regardless, just imagine the freedom.
But what if I tell you, wireless charging is not new?
You heard me right, it's not a new idea and Magnetic Induction or the Inductive charging method derives from the 1800s. The idea has been traced to the 20th century and the days of Nikola Tesla and his "Tesla Tower- a wireless transmission station designed and built by Nikola Tesla in 1901-1902." The Tesla Tower could actually transmit electric currents from a transmitter to a receiver by generating a magnetic field. Ahead of its time hence remained unrealized.
With smartphones becoming trendsetters for wireless charging, this technology is grabbing a lot more attention. Qi standard charging of inductive charging has been out for a while now and with more and more smartphone companies adding up, this piece of technology is definitely going to change for a good reason. It is a step in the right direction but the fact that it's not truly wireless is still annoying.
There are some wireless charging solutions that are currently available in the market.
Power Mats: Much of what we see today, falls under this category which includes wireless chargers and pads placed on a table or something. This piece of tech is being used all over and people are actually shifting towards wireless charging. All you have to do is just lay down your device and it's charging already.
Powersquare: This is a company that makes a multiple device approaches, allowing you to juice up multiple devices simultaneously. The best part about this one is that you no longer have to fiddle around for different chargers. One charger charges all. (P.S. wireless charging supported ones.)
Charging Bowls: It is a little bit of both, the charging mat as well as a powersquare. With this one, you don't have to worry about the alignment or proximity of your device, just place it into the bowl and charging starts.
The next evolution in wireless charging has to be the one that is truly wireless. No strings, wires cords or plates attached. Just the presence of electricity, that's it.
How can wireless charging be the future?
No matter what, we aren't truly mobile as of now. We still trip over the wires to stay mobile for as long as we can.
All these techs that are mentioned; wireless charging pads, cars and all, they all are quite promising and keeping in mind how far we've come in terms of technology, you know there's more to come.
Imagine all these technologies placed all around us, won't it be sufficient for us to be mobile? It's all about technology and their practical applications which will pave the way towards the future where we are no longer tangled in wires.