Google announced its cloud-based gaming service 'Stadia' at Game Developers Conference 2019. And 'Stadia' shows up to be one of the most determined services from the company yet.
This is not the only time that Google has tried on game streaming service. Remember 'Project Stream' that was announced last year by Google and was built around Assasin's Creed Odyssey. But the project soon ended and we didn't hear much regarding future plans on such game streaming service but here we are now.
Similarly, Stadia is not the only game streaming service that we're seeing. You might have heard about OnLive. It was shut down on April 30, 2015, after it got acquired by Sony.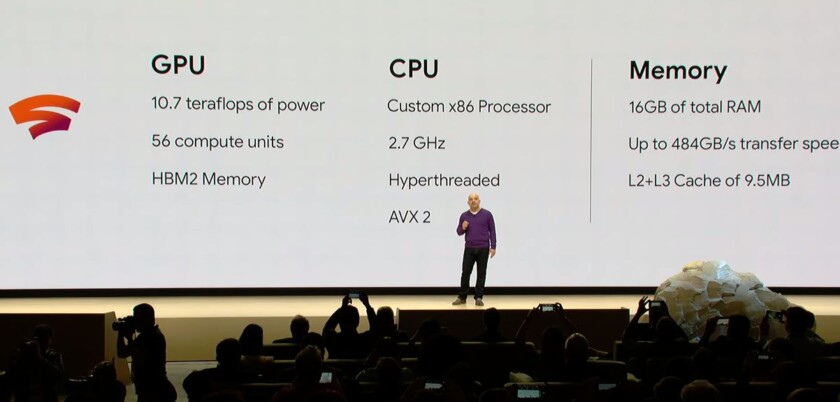 The Stadia works with Chromecast Ultra, the Chrome Browser, desktops, tablets, and phones. And you can instantly switch between these devices. But you require a capable internet connection. We don't know about internet requirements yet.
It's a Linux based service that uses Vulkan API and it supports many popular game development engines like Unreal, Unity etc.
Users can get the power of a custom AMD 2.7GHz x86 processor with 16GB RAM, transfer speed of up to 484GB/s and GPU with 10.7 teraflops of power — that's more than the PS4 and Xbox One X. So all your requirements for gaming will be borne by a remote PC of Google. All you need is a computer, tablet or phone, whatever you want to use for gaming.
Stadia is easier to upgrade. The upgrade is done remotely at the server side. You can play games in 1080p up to 4K resolution. The 4K resolution comes with 60fps and HDR with full surround sound support. Google also speaks about its future plan to offer 8K gaming support.
Google Stadia Highlighting Features
Stadia Controller
The Stadia controller looks like a hybrid between the PS4 and Xbox One's controllers. The standalone controller will connect via WiFi directly to Google's server for offering lag-free gaming experience. It also comes with a dedicated Google Assistant button that instantly wakes up the Google Assistant. This way you can take help from the Google Assistant on Stadia in order to play the game.
State Share lets game developers to turn-in game waypoints into a type of weblink. And players can enter a game at a specific time moment using the link. The link preserves the world state, the player inventory, and all the other factors that are required to grasp the moment right where it ceased.
One example of its usage is how YouTubers can create a State Share in order to allow their audiences to experience what they just saw at home.
YouTube integration
You can crowd play or push play instantly if you are watching a game streaming on YouTube. However, we need to wait for all the details to come regarding this feature.
Game Support
Google has announced its own first-party game studio namely Stadia Games and Entertainment. It'll help developers to implement Stadia technology into their game titles.
Regarding games, most studios are bringing their games to Stadia. Few confirmed titles are Doom Eternal and Assassin's Creed Odyssey.
Launch and Cost
Google Stadia is said to launch in the US, Canada, UK, and most of Europe in 2019. However, the dates are not confirmed. Similarly, we don't know anything about how the costs work with the platform. Google will be telling more about Stadia on this summer.