This is the time, the IT sector has seen the most growth and has boomed like no other businesses, be it social media marketing or a mere webpage, which has played a crucial role in increasing businesses and making sure the right product reaches the right potential consumers. As interesting as it sounds, the IT industry is one hell of a hectic task and are mostly working in the background without much appreciation and recognition.
Living with ICT has been conducting the ICT award Nepal for four consecutive years now, and the ICT award 2019 was held on 17th of August 2019, felicitating the trendsetters and pioneers of the ICT Industry.
Nepal's topmost ICT business people, trendsetters, ventures, and products were awarded a unique honorary function held in Kathmandu on Saturday, August 17. The winners were reported in 10 distinct categories. Minister of Education, Science, and Technology — Giriraj Mani Pokhrael, former ICT Minister — Ganesh Sah, Member of Parliament and former Industry Minister — Mahesh Basnet and other special guests felicitated the award winners.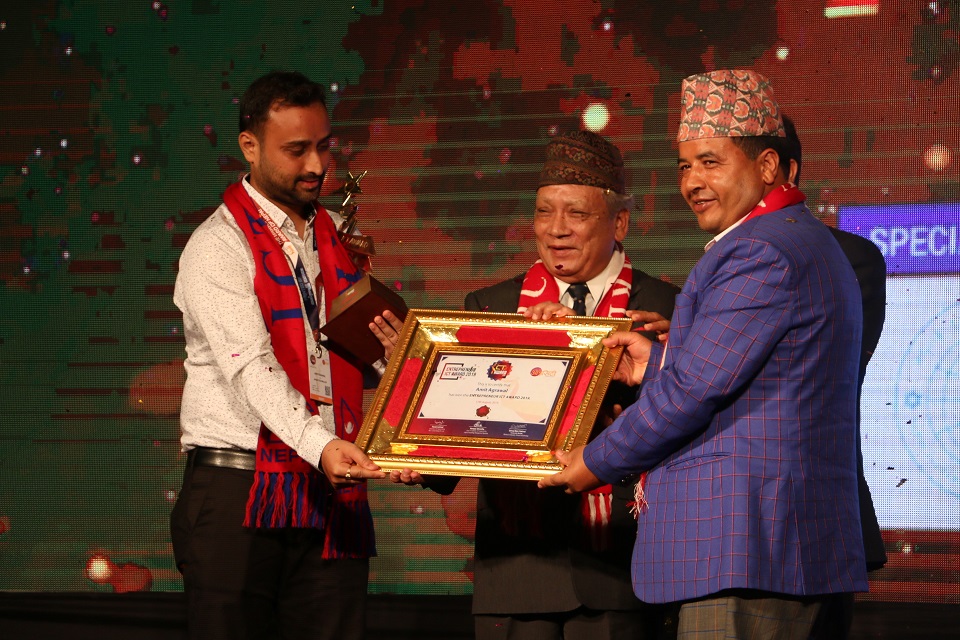 E-Digital Nepal was announced the best of ICT Startup, Mediflow Framework and Administrations was perceived as the best ICT product award. Moreover, Raktadaan – an initiative by the students of Pulchowk Engineering Campus won the Rising Student Project Award. ICT Pioneer Award was awarded to Mahabir Pun, Chairperson of National Innovation Center Nepal.
ICT Award 2019 Winners
Startup ICT Award – E-Digital Nepal
Product ICT Award – Mediflow System and Services
Entrepreneur ICT Award – Amit Agrawal
Pioneer ICT Award – Mahabir Pun
Nepali Diaspora ICT Award – Sameer Maskey
Digital Governance ICT Award – Lok Sewa Aayog
Digital Education ICT Award – National Open University
Rising Student ICT Award – Raktadaan
Public Choice ICT Award – Kitab Yatra
Media Person ICT Award – Bijay Timilsina
Likewise, Amit Agrawal, co-founder of Sparrow SMS and Khalti Digital Wallet was congratulated with ICT Business Entrepreneur Award — a classification devoted to IT Business visionaries of Nepal who are forming the field in Nepal and past boundaries, to perceive their capacity and help them push forward. In the interim, Diaspora ICT Award – an honor to respect the individual who has stayed out of Nepal, however, has made an impactful engraving in the universal field and has brought the nation as globally skilled in a worldwide stage – went to Sameer Maskey, Founder of FuseMachines.
Lok Sewa Aayog was granted ICT Digital Governance Award — an honor to respect and perceive the administration association that has been engaged with advancing, utilizing and empowering computerized administration through their workplaces. In the meantime, Nepal Open University was granted with the Digital Education ICT Award for the ideal use of ICT in the education sector.
Also, Bijay Timilsina – Journalist of Kantipur Daily was decorated with ICT Media Person Recognition. Kitab Yatra – an online book shop in Nepal was granted the Public Choice Award. On the event, the Posthumous Honor was given to Karmath Dangol for his contributions in the ICT segment of Nepal.
The winners were chosen from 200 plus candidates nationwide. On this very occasion, Rashtriya Banijya Bank announced to grant insurance-free loan up to 15 lakh rupees to the winners of ICT Startup Award, ICT Product Award, and Rising Student ICT Award. Similarly, Asian Life Insurance, Insurance Partner of the award is providing life insurance up to 10 lakh rupees to all the award winners. Alongside this, the award winners have gotten different offices and speculation openings.