Vivo's Apex series has always been offering us a sample of contemporary designs as well as cutting edge technology. The first Apex phone came with an in-display fingerprint scanner and a pop-up camera, while last year's 5G phone had no ports or buttons.
This year, it was almost sure, or at least we anticipated that Vivo would once again set the stage on fire at MWC 2020 with its brand new Apex Concept phone, but the company was one of the many to postpone its plan, due to the outbreak. However, Vivo has announced, with a picture, that the company will be showcasing its concept phone on February 28.
Although the phone's yet to hit the stage, many journalists have already touted it to arrive with a 48MP gimbal camera. Gimbals can be seen being used by most in professional as well as semi-professional settings to stabilize a camera for less or almost no shaky shots. So, this means the phone could pack a scaled-down version of it.
Again, isn't OIS already there to act as a scaled-down version of gimbal? Anyway, Vivo could be bringing a superior version of already existing technology.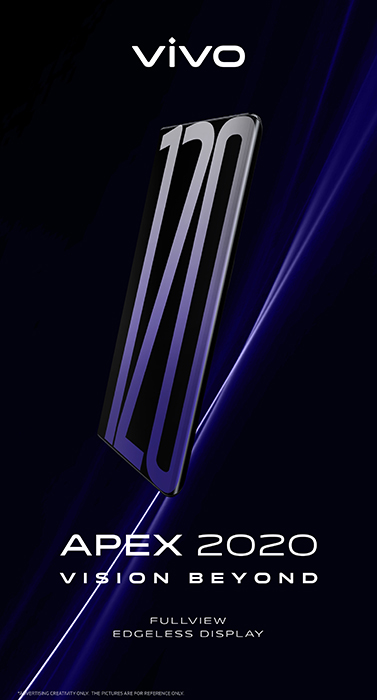 Vivo's image also points out that the concept phone will come with FullView edgeless display with a 120Hz refresh rate. So, it's almost certain the phone will not have any buttons, or maybe even ports.
There's more to the camera. Vivo's picture above showcases a "continuous optical zoom" capabilities with five lenses, plus a rectangle camera module resembling the periscope camera. What this could mean is that the company may have managed to cramp the 5-7.5x optical zoom to a periscope lens.
Well, only time will tell. While Vivo's first concept phone's pop-up camera and in-display fingerprint scanner made its way to market in Vivo Nex, the second concept phone was commercially not available. So, it's pretty vague if this one will get a segment of its own.