Update, 19 May 2020 (6:31 PM NPT): Xiaomi's upcoming MIUI 12 for China was showcased earlier this month, now the company has unveiled it for global users.
The global MIUI 12 skin is essentially as same as the Chinese one — you can check the original article below — with dark mode 2.0, Super Wallpapers, sensory visual design, new gestures, health tracking improvements, AI calling, and various other privacy features.
On top of that, Xiaomi also showcased some extra features at the event including improved casting capabilities, and an ultra power-saving mode that offers minimal and basic features like SMS and calls. This one will allow phones on 5% battery to last up to five hours, unlike one hour by default.
Xiaomi said that users can expect MIUI 12 to hit their devices from the end of June — check the image above for the list of compatible devices. Also, beta testing will be in offer from next week as interested one can apply through the Mi Community forum or social media.
---
Original, 28 April 2020 (12:54 PM NPT): Xiaomi reveals the successor to its MIUI 11 Android skin, the MIUI 12 delivering enhancements over UI and visuals as well as additional inclusions like remodeled dark mode, new privacy and security tools, fresh animations and wallpapers, etc. to company's elective devices. Xiaomi even notes reaching a total of 310 million monthly active users during the announcement. The company also quotes the MIUI 12 to be the first mobile operating system to pass the "Android System Enhanced Privacy Protection Test" from TUV Rheinland.
Now, let's discuss all new comings in the MIUI 12.
MIUI 12 Features
Dark Mode 2.0
The Dark Mode 2.0 in MIUI takes along a light obscure wallpaper experience working in association with the day time, while successively dims as the night time approaches. The display text gets revamped between the light and dark modes, i.e. the font-weight and boldness get auto-adjusted thereby diminishing glare during the dark mode. Depending upon the surrounding ambiance, the font contrast also gets auto adjusted improving the overall text visibility.
Super Wallpapers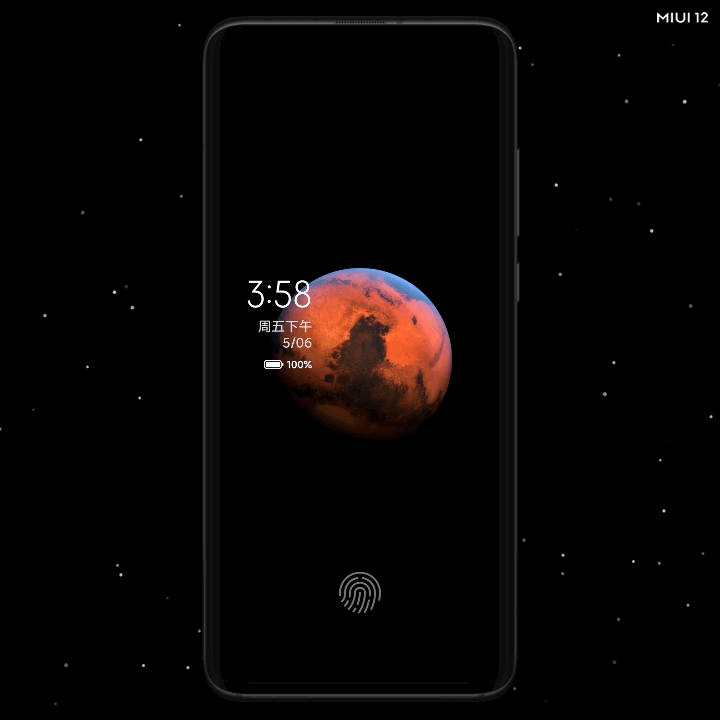 Xiaomi unfolds "Super Wallpapers" in the MIUI 12 introducing precise 3D animated models of Earth as well as Mars on the basis of exploration data. Users can use these on both locked and unlocked screens. Similarly, in dark mode, these enter the night time. Great right!
You can now use Super Wallpapers on any Android device.
Sensory Visual Design
MIUI 12 allows you to see the system status as at a peek. The company calls it a "Sensory Visual Design" as it has visualized the core system information. But what can you really do with it? Well, visit "Settings" on the device with MIUI 12 to see stuff including the available storage and all the other system information via graphs and visual diagrams.
Fresh Animations
#Xiaomi #Mi10Youth #mi10youthedition #miui12
System animation, perfect horizontal and vertical screen rotation animation pic.twitter.com/3aHb7D2C1S

— Xiaomishka (@xiaomishka) April 27, 2020
Xiaomi puts a major convergence on the visual remodeling through MIUI 12, be it a fresh-looking weather animation or a time-lapse movie on the screen showing real-time weather changes. The app icon animation also gets revamped hence producing real-time gesture based feedback. Xiaomi says any changes in the direction along with the speed in gestures result in in-app icons to behave distinctly. For instance, a ripple effect is produced affecting surrounding application icons as an app is deleted. Similarly, fresh animations are added for screen rotation, opening, and closing of apps, etc.
New Gestures
New Shortcut In Notification Panel Itself Whenever We Receive Any Notifications#miui12 #Xiaomi pic.twitter.com/GvjeGKOahG

— BEE 008 Tech #StayHome (@BEE008Tech) April 27, 2020
Xiaomi launches exciting new gestures with the MIUI 12. An example of it includes swiping down the notification panel in order to work with the notification without bringing any interruption to the current activity. You can even slide out the notification to expand it into a tiny window thus later drag aside to achieve a split-screen.
Health Tracking
The MIUI 12 also allows you to keep track of the activities such as walking, running, cycling, climbing, etc. leveraging what Xiaomi states "AI motion behavior perception algorithm" that is said to record heath data accurately while saving power simultaneously. It also comes with sleep tracking recording your bedtime, sleep time, sleep depth, or if you dreamt or snored in sleep.
AI Calling
Xiaomi, for a year now, has been training Xiao AI, an AI assistant to answer calls for the users. The company states that the Xiao has already answered over 4 million calls for closed beta users.
Now the MIUI 12 carries the same upgraded assistant with a feature called "AI Calling". This allows users to switch among auto and manual call answering. However, it's yet unclear it could make out to the global users anytime soon.
Enhanced Privacy
You will now be able to allow permissions to apps only once or during usage while the permission gets withdrawn as you are done with the application. Whereas the "Always Allow" option is discarded if the applications don't break down the permission. MIUI 12 even allows users to keep track of the application behavior thereby viewing the record on the device itself. It ensures that you get a reminder on the top of your screen if an app is using any sort of permission(s).
Furthermore, Xiaomi quotes the "Mask System" that is said to provide rogue apps with blank information as well as a virtual ID thus securing user data for five permissions that include contact lists, call records, and calendar. It also states that sensitive information like device details will be removed from image files before you share them.
MIUI 12 Release and Availability
Xiaomi states that the stable MIUI 12 version will ship towards the end of June 2020. In the meantime, the company has already opened a beta test program in China.
Elective Devices for MIUI 12 Update
Here are the lists of Xiaomi and Redmi smartphones (Chinese variants) that will be getting the stable MIUI 12 update as of June:
First Batch
Xiaomi Mi 10 Pro
Xiaomi Mi 10
Xiaomi Mi 10 Youth Edition
Xiaomi Mi 9 Pro
Redmi K30 Pro
Redmi K30
Redmi K20 Pro
Redmi K20
Second Batch
Mi Mix 3
Xiaomi Mi 8 Series
Redmi Note 8/8 Pro
Redmi Note 7/7 Pro
Third Batch
Mi Mix 2
Redmi 8/8A
Redmi 7/7A
Mi CC9/CC9 Pro/CC9e