Alongside the F17 and F17 Pro, Oppo has gone on to unveil the new Oppo Watch. Oppo's wearable solution comes with two chipsets: Qualcomm Snapdragon 3100 Watch, powering the Wear OS, and the Ambiq Micro Apollo 3 — this one powers the standalone system, which Oppo likes to call low-power mode.
The Oppo Watch offers two sizes, 46 mm and 41 mm, out of which the first one has a 1.91-inch AMOLED screen with 402 x 476 resolution, whereas the latter brings a 1.16-inch OLED panel with 320 x 360 pixels resolution.
Nonetheless, both sizes are built from 6000-series aluminum alloy, whilst the rear of the smaller one gets a plastic and the bigger one has ceramic. The strap, on the other hand, is made up of "fluororubber".
Like said above, as the Oppo Watch has two chipsets, the uniqueness of it is that it can boot two OS — one being the WearOS and the other is a low-powered energy-saving mode, as per your needs. The WearOS offers all the goodness of a smartwatch, including Google Play, while the latter is just limited to essentials like time, alarms, notifications — alike any smart bands out there. Both the 41mm and 46mm sizes are the WiFi-only version.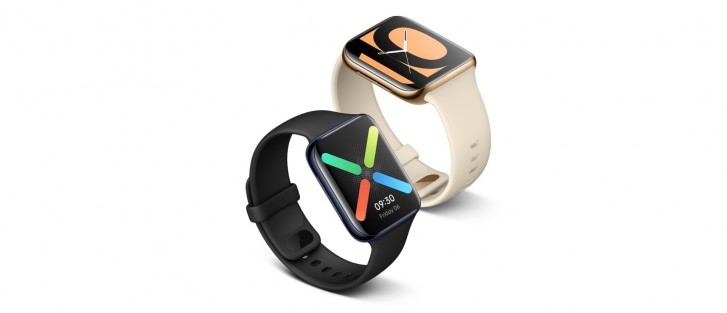 The two modes not only differ in terms of features but endurance as well — the normal WearOS mode will give you 24 to 36 hours of standby time, whereas the Power Saver Mode churns out 14/21 days of battery life — respective of 41 or 46 mm variants.
There's a difference in charging time as well.  The bigger one can fill the 46% battery in about 15 minutes and would need 75 minutes to fully charge it. However, for the smaller ones, it would take 15 minutes to charge 30% of the battery, albeit having a small battery.
Oppo Watch Price in Nepal and Availability
The Oppo Watch 46 mm costs Rs. 34,990 in Nepal, whereas the 41 mm variant is a bit cheap at Rs. 24,990. Both variants will go on sale through offline as well as online shops in Nepal.