If you haven't been living under a rock, by now you must know that Samsung's S21 series is now available for pre-booking in Nepal. Alongside the three new S series phones, Samsung also unveiled its Galaxy Buds Pro truly wireless earphones in Nepal, which now replaces the Galaxy Buds+, albeit similar design.
Even though the earphone resembles the Galaxy Buds+ design, Samsung says it offers a better fit and ergonomics with longer listening times. It also brings superior audio quality and active noise canceling much like the Buds Live.
The Galaxy Buds Pro has 11mm woofers for deeper sound and 6.5mm tweeters for better trebles. Samsung claims that the Buds Pro's setup pretty much refines your audio listening experience, making it a better alternative than the already acclaimed Galaxy Buds+.
Likewise, the Buds Pro has much more to offer, including a significant improvement in call quality. Samsung has put a dedicated Voice Pickup Unit (VPU) that sharpens your voice via three microphones by suppressing the background noise.
Out of three, one of those microphones has a high signal-to-noise-ratio (SNR) that assists with the ambient sounds. On top of that, the Galaxy Buds Pro also brings Samsung's new Wind Shield technology to prevent the wind from interfering your calls while you're outside or riding your bike.
The Buds Pro has active noise canceling as well, which blocks 99% ambient sound as per Samsung. The ANC settings are well-detailed, allowing you to choose the level of ANC, or if you want to hear what's happening around you, you can increase your surrounding sound by more than 20 dB. The earphones, though, are pretty capable of doing that by themselves, if in case you don't want to fiddle with settings. The microphones are active almost every time hearing your voice, so whenever you speak, it brings ambient sounds in.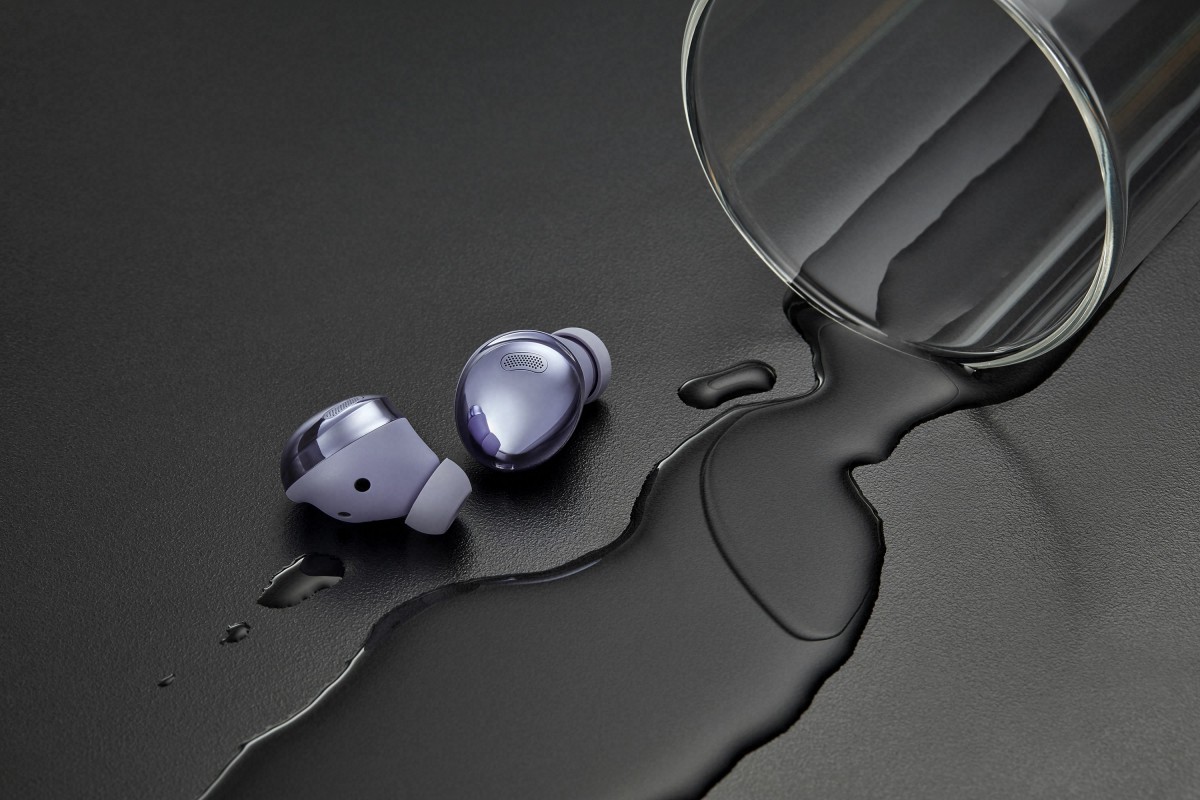 There's another handy feature known as Auto Switch which allows you to connect two Samsung devices at the same time. This means the earbuds can automatically switch between your multimedia content and phone calls by pausing the former so that you can answer your call. And as soon as you are done with your call, the earbuds will play the content without any hassle enhancing your experience.
SAMSUNG GALAXY BUDS PRO SPECS
Speaker: 11mm woofer + 6.5mm tweeter
Microphone: 3 mics with 2 outer + 1 inner; Voice Pickup Unit; Wind Shield
Water resistance: IPX7, 30 minutes underwater up to 30 minutes
Audio codecs: AAC, SBC, Scalable
Noise cancellation: Yes, ANC (up to 99% reduction), Intelligent Voice Detection
Connectivity: Bluetooth 5.0
Battery: 61mAh (each earbud), 472mAh (case)
Battery life: 5 hours with ANC on and 8 hours continuous playback with ANC off
Sensors: Accelerometer, Gyro, Proximity, Hall, Touch, Voice Pickup Unit
Colors: Phantom Silver, Phantom Black, Phantom Violet
But that's not the only thing the buds bring — it also has 360 Audio, courtesy of Dolby Head Tracking technology, which is quite similar to Apple's Spatial Audio. Plus, it also has Game Mode for low latency.
In terms of endurance, each bud has a 61mAh battery that is said to last for up to 5 hours of audio listening with ANC turned on and around 8 hours without the ANC. If in case you need to charge it, you can put magnetically do it by putting it inside the case, which also has a 472mAh cell inside.
This means the Galaxy Buds Pro offers a total listening time of 18 and 28 hours, with and without ANC respectively. You can fast charge the buds that give 1 hour of music playback with just 5 minutes of charging.
Samsung Galaxy Buds Pro Price in Nepal and Availability
The Samsung Galaxy Buds Pro can be yours for a price of NPR 25,300 in Nepal. You can purchase the earbuds via Samsung's official store located across Nepal.