Update, February 08, 2021 [03:29 PM NPT]: Samsung's Galaxy S21 series, including the Galaxy S21, Galaxy S21+, and Galaxy S21 Ultra are now available for purchase in Nepal.
The Samsung Galaxy S21 price in Nepal is NPR 109,999 for the 8GB/256GB variant, while for the Galaxy S21+ its price is NPR 129,999 for the 8GB/256GB variant.
And finally, the Galaxy S21 Ultra — its price in Nepal is NPR 154,999 for the 12GB/256GB model.
Interested users can buy their phone via Samsung's nearest retail stores as well as online platforms like Daraz, SmartDoko, SastoDeal, and eSewa. You can opt for 0% EMI as well as exchange offers if in case you need it. Samsung is also offering one-time breakage insurance on all three phones for up to 12 months.
To know more about the availability you can visit Samsung Nepal's Facebook page. And to know more about the Galaxy S21 series you can take a look at our original article below.
---
Original, January 15, 2021 [1:17 AM NPT]:
Samsung has announced its new Galaxy S21 lineup with three smartphones including Samsung Galaxy S21, Samsung Galaxy S21+, and the Samsung Galaxy S21 Ultra. More interestingly, the S21 and S21+ are priced less than their predecessors from 2020. I mean just look at the 5G variants, they cost €50 less.
Though the renders seemed uninteresting, the official models are eye-catching, at least by the looks of it. Samsung resorts to the flat screen, while the Contour-Cut camera and dual-tone paintwork look exclusive.
As for the hardware, both regular and plus variants are quite similar, however, different in sizes. Now, as we are already discussing the size, we will look at both devices individually starting with the similarities and later on the opposite.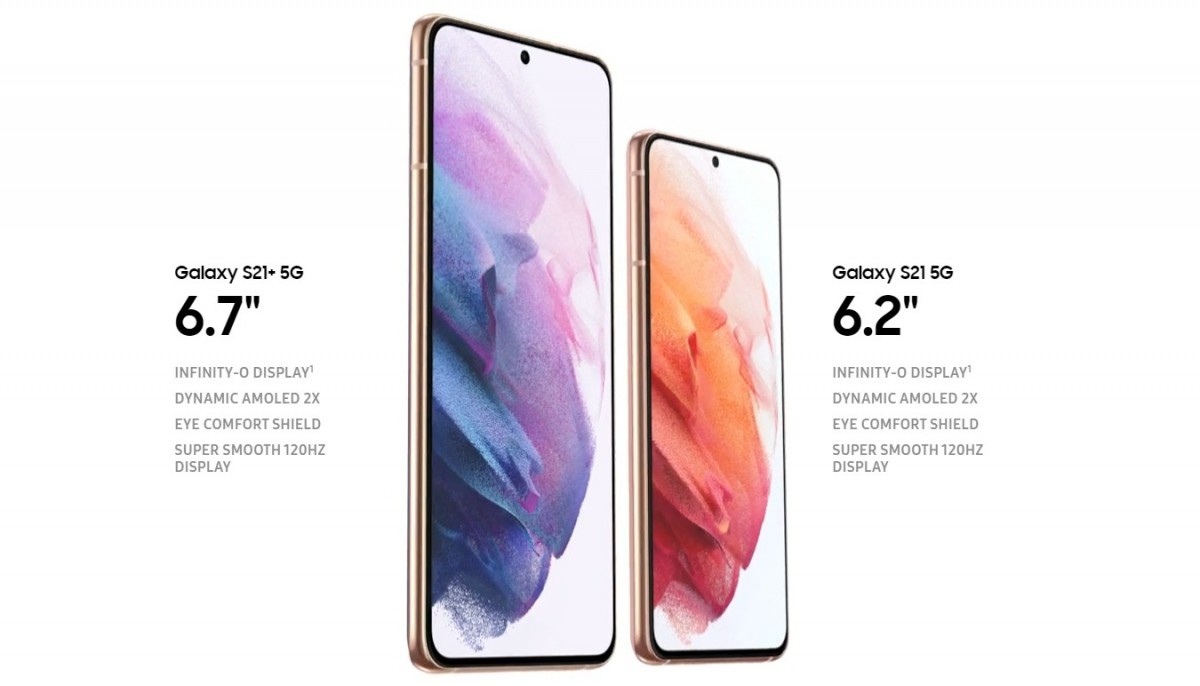 The Samsung Galaxy S21 and the S21+ share similar 1080p+ screens down from 1440p+ in the predecessor, and it can adapt refresh rate from 48Hz up to 120Hz according to content.
While the 10MP front camera sees its way inside a punch hole at the top of the display, the fingerprint scanner is placed beneath. This is an ultrasonic fingerprint sensor with 70% more coverage than the descendants.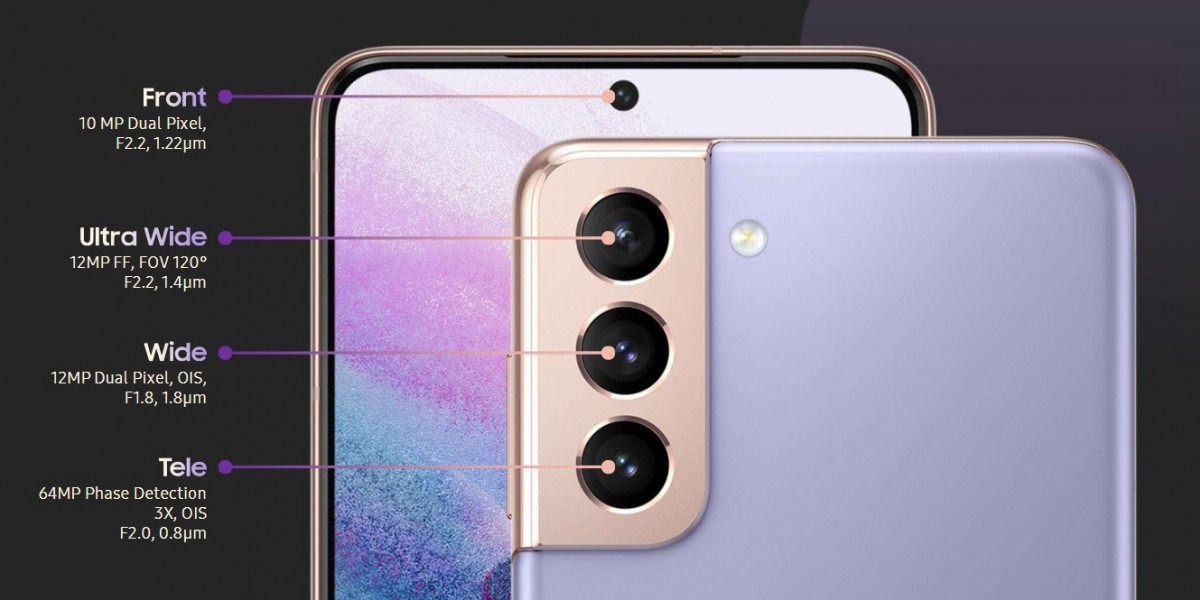 The new chipsets don't just improve overall performance but the rear camera sensors too. Meaning all three can be streamed at the same time. There is an f/1.8 12MP wide sensor with 1.8µm pixels, dual pixel autofocus, and optical image stabilization.
SAMSUNG GALAXY S21 SPECS
Display: 6.2-inch flat 1080p (2,400 x 1,080 px) 48-120Hz adaptive refresh rate AMOLED
Processor: Exynos 2100
Memory and storage: 8GB RAM, 256GB storage
Rear cameras: 12MP standard wide, 12MP 120-degree ultra-wide, and 64MP 3x hybrid zoom up to 30x digital zoom 
Selfie camera: 10MP
Battery: 4,000mAh
Water resistance: IP68
Connectivity: Sub 6GHz (5G), mmWave (5G)
Colors: Phantom Gray and Phantom Violet
Unlike the Ultra variant, both S21/S21+ lack autofocus on their 120-degree 12MP ultrawide sensors. Also, we see a 64MP telephoto lens with up to 3X lossless zoom and 30X space zoom, autofocus, and OIS atop 8K video recording at 24fps. Both devices carry 8GB of RAM and 128GB/256GB of onboard storage without the expansion option.
SAMSUNG GALAXY S21 PLUS SPECS
Display: 6.7-inch flat 1080p (2,400 x 1,080 px) 48-120Hz adaptive refresh rate AMOLED
Processor: Exynos 2100
Memory and storage: 8GB RAM, 256GB storage
Rear cameras: 12MP standard wide, 12MP 120-degree ultra-wide, and 64MP 3x hybrid zoom up to 30x digital zoom 
Selfie camera: 10MP
Battery: 4,800mAh
Water resistance: IP68
Connectivity: Sub 6GHz (5G), mmWave (5G),  ultra-wide-band (UWB)
Colors: Phantom Black, Phantom Silver, and Phantom Violet
Now the differences, Samsung Galaxy S21 5G ships with a 6.2-inch display. The front of the device gets a Gorilla Glass Victus protection whilst the back is made up of glastic seen in the Galaxy A series. This one carries a 4,000mAh cell that is expected to last longer considering the new chipset based on a 5nm process and adjustable refresh rate.
Expectedly, we are witnessing two different processor variants as well. S21 in China, Korea, and the USA will carry Qualcomm Snapdragon 888 processor whereas the remaining part of the world will get an Exynos 2100 variant. And Samsung chooses not to release the 4G-only model at all.

Similarly, the Samsung Galaxy S21+ has a bigger 6.7-inch display. Although we have the same Gorilla Glass Victus protecting the front, the back, however, is built with glass. It has a bigger 4,800mAh cell keeping the lights on with up to 25W charging support via appropriate USB Power Delivery charger (not included in the box). You do get a USB-C cable right out of the box. You can go for wireless charging as well, which is rated at 15W going in and 9W reversible.
The 'Plus' model in contrast to the regular variant also supports Ultra Wide Band for quicker data transfer within local devices. You even get to track tags, hence sense the directions.
Samsung Galaxy S21 Ultra
Samsung's Galaxy S series, for a decade, has always been about having the latest and greatest. But now the company is overhauling its portfolio. Last year's S Ultra phone and non-S Ultra phone had some contrast between them, but this year the gap is stretching even more.
While last year's S20 Ultra had a superior camera over other S-phones, this year the 'Ultra' model gets another major advantage over its siblings, mainly in the display area.
Without a doubt, out of three, the most impressive one is the Samsung Galaxy S21 Ultra 5G (sheesh! that's a really long name), which debuts first of its kind features on the Galaxy S lineup, most importantly in the camera and display department.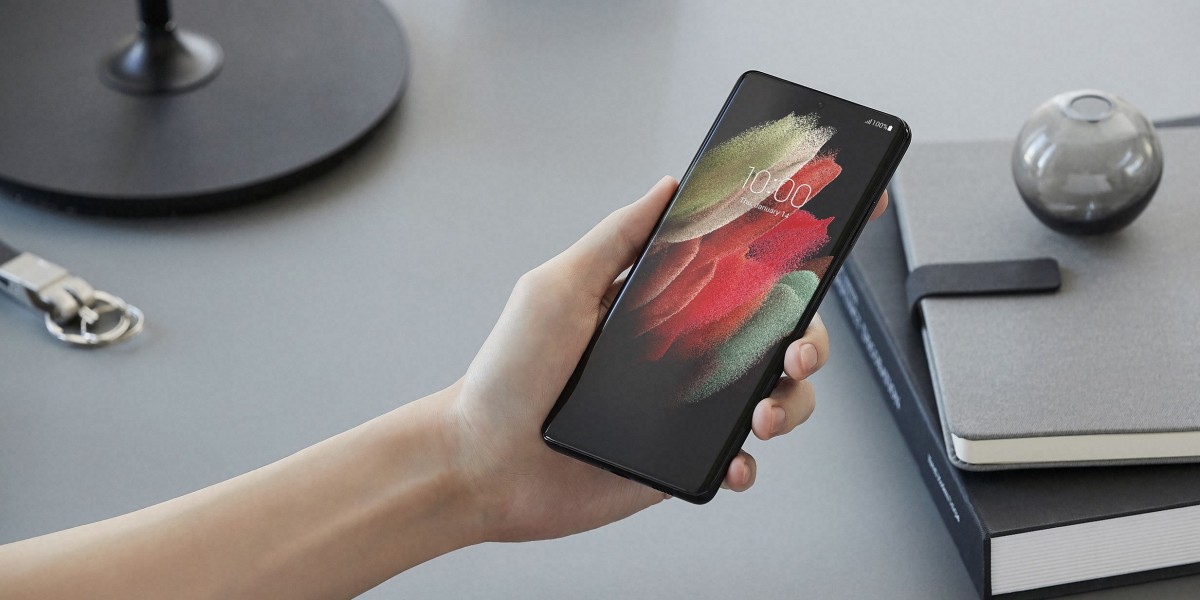 At the front, we have a 6.8-inch Dynamic AMOLED 2X panel, which is a bit smaller than last year's Ultra model, but it still gains that curved sides, plus it's now protected by Gorilla Glass Victus. The resolution stays at 1440p+, which is an exception for the other two S21 models (both have 1080p+).
The AMOLED panel is the first from Samsung to have a 120Hz refresh rate while simultaneously outputting a full 1440p+ resolution. It's an Adaptive Refresh Rate (ARR) display that can drop to 10Hz when necessary. This should decrease power consumption, mainly if you have the Always On Display turned on. The S21 Ultra 5G also has the brightest display on any Galaxy device by far, peaking at 1,500 nits.
Now, to make use of that glorious space, the S21 Ultra comes with support for the S Pen, or just any Wacom stylus, though, there's no stash to store the stylus like the Note series. So, it's up to you to go for a stylus of your size, which is going to sit in your pocket or Samsung's own case. But we are pretty sure, third-party case makers will figure this out. Aside from that, the S Pen opens an avenue for the S21 Ultra — you can take notes, sketch your imagination, and it also supports shortcuts and remote gestures.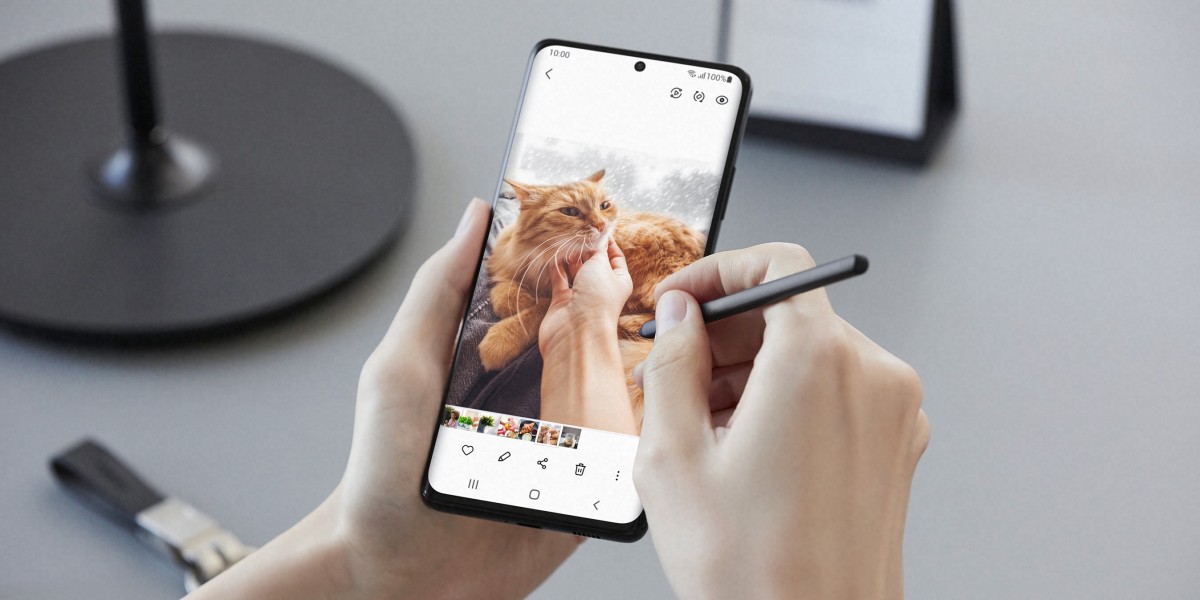 Take a look at the back, and you'll see a weird camera cradle or rectangle that holds four cameras. There are now two telephoto lenses; the one is extended to 10x optical zoom, while the other is a 3x lens to fill the void. The main sensor is also capable of handling 1x to 3x range with lossless digital zoom.
Then there's the upgraded 108MP primary sensor, which Samsung calls "Bright Night Sensor". It brings 9-in-1 pixel binning to 12MP with upgrades in low-light shots. To get the most out of it, you can always opt for manual editing as it can output 12-bit RAW photos. The last one is a 12MP sensor with a 120-degree FoV.
SAMSUNG GALAXY S21 ULTRA 5G SPECS
Display: 6.8-inch curved 1440p (3,200 x 1,440 px) 10-120Hz Adaptive Refresh Rate AMOLED
Processor: Exynos 2100
Memory: 12GB RAM with 256GB storage
Rear cameras: 108MP wide, PDAF, 12MP 120-degree ultra-wide, 10MP 3x optical zoom, and 10MP 10x optical up to 100x digital zoom 
Selfie camera: 40MP, f/2.2
Battery: 5,000mAh
OS: Android 11, One UI 3.5 with S Pen features
Colors: Phantom Black and Phantom Silver
The Samsung Galaxy S21 Ultra is finally able to shoot videos at 4K 60 fps from all cameras, making it the first Samsung phone to do so.
Diving deeper into smaller aspects of the phone, it's the first phone to have Wi-Fi 6E support onboard — this means it can work in the 6GHz band, offering much more bandwidth with low latency.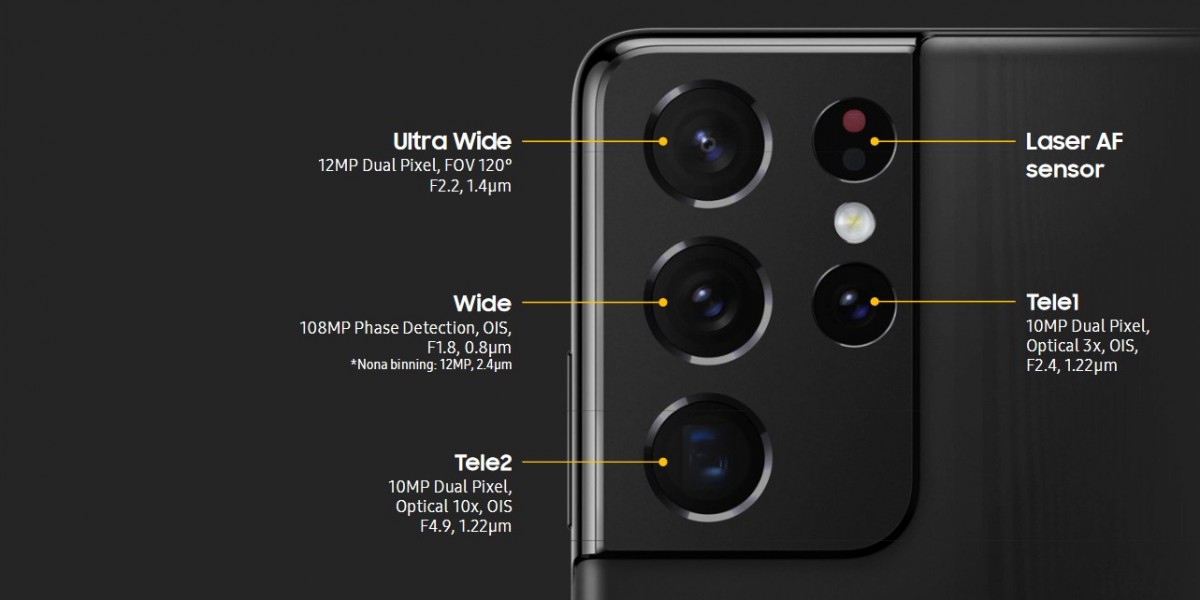 Handling all the necessities is a 5,000mAh battery with 25W wired charging, but one major noticeable thing is that the box now ships without a charger. However, you can use any other USB charger, and a wireless charger still works here.
The Galaxy S21 Ultra has 128GB of base storage, which is similar to two of its siblings, but if you think it's low for you, you can always opt for the 256GB and even 512GB storage options. The RAM maxes out to 16GB, but there's a 12GB variant as well, which seems ample, given that the two other S-phones get an 8GB option only (no upgrade option), which is outrageous.
As usual, the Galaxy S21 Ultra ships in two chip variants — one with the Snapdragon 888 and the other with the Exynos 2100 depending on where you buy. North America gets the Snapdragon variant, while Europe and Nepal get the Exynos. Nonetheless, both version comes with Android 11 based One UI 3.5, which offers some exclusive S Pen features.