Vivo Nepal recently announced the 4th iteration of its Sales Carnival aka Vivo Sales Carnival 2021 for Nepalese consumers. The announcement was made in a special get-together with media, key opinion leaders, and other stakeholders in the presence of its brand ambassador Pradeep Khadka while celebrating its 4th anniversary in the country. Amidst the event, Vivo also launched its latest smartphone in the Y-series, Vivo Y15s. It primarily focused on discussing the brand's customer-centric approach to democratize technology as well as introduce global innovation, hence cater the ever-changing needs of every customer across all price categories.
Coming to the campaign, the running Vivo Sales Carnival 2021 brings forth exciting offers and discounts. Commenced on 15 December 2021, the 22-day campaign will end on 5 January 2022 providing consumers with an opportunity to win exciting gifts such as laptops, headphones, V21e handsets, Bluetooth speakers, earbuds, etc. on purchase Vivo's V20, V20SE, V21, V21e, and Y12s, not to mention an added 6-month warranty on each of these smartphones.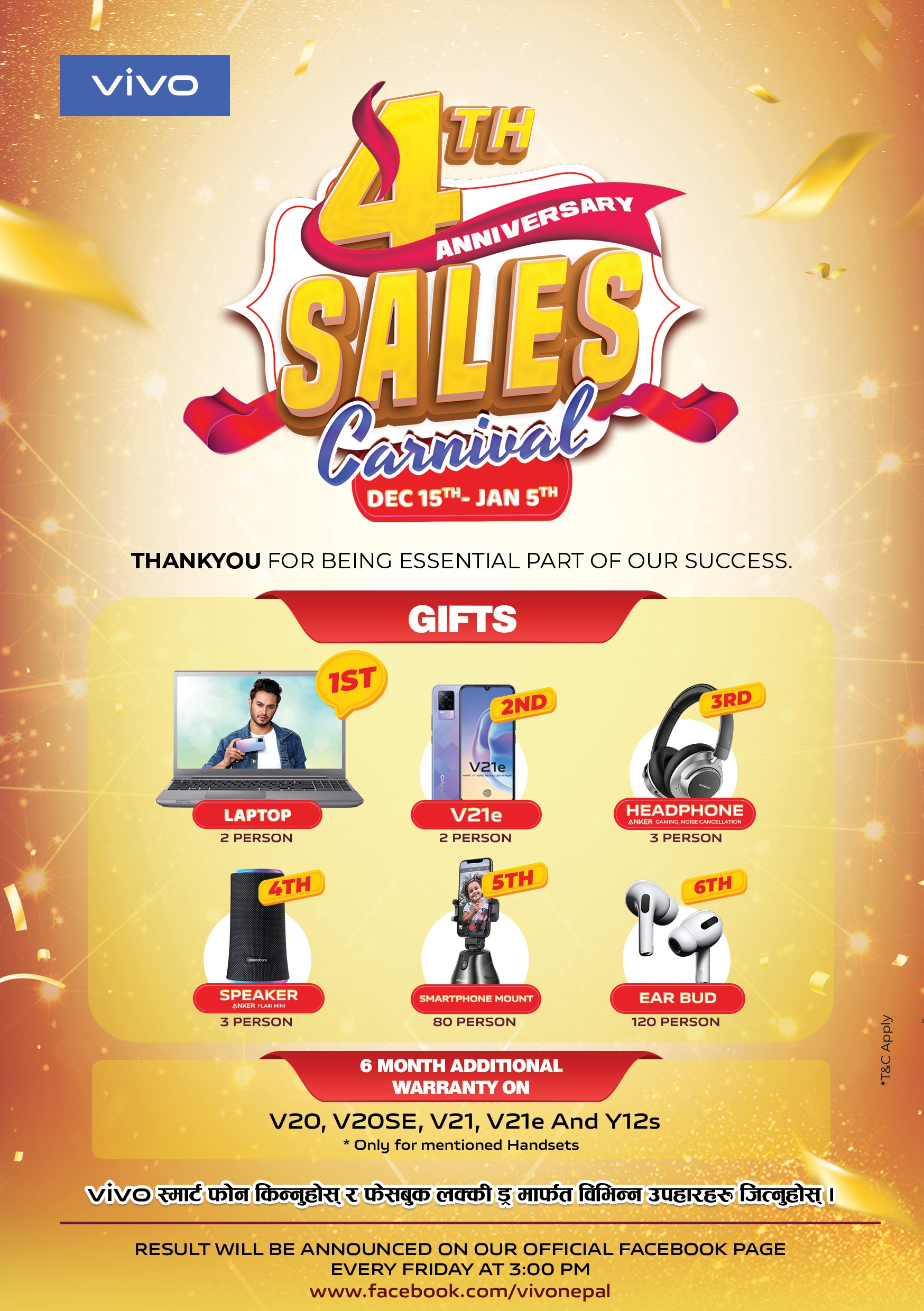 Meanwhile, Vivo celebrated its 4th brand anniversary, collaborating with Orphan & Helpless Children Development Association in Nepal together with The New Youth Children Development Society and New Children's Home as part of its community service initiative. Vivo also shared its participation in a day-long activity with children from all three organizations, sharing stationery items and food packets during the event. Pradeep Khadka, Brand Ambassador was also present at the venue to interact and initiate fun activities like games and dance play with the children. The company talks about the event as a means to express gratitude towards society for all the love and support throughout the years.
Talking about the same, the Vivo representative shared, "It's been an incredible journey in Nepal over the past 4 years. It makes us happy to cater to our beloved consumers who support us wholeheartedly. At Vivo, we strategically introduce futuristic technologies to upgrade our presence and meet evolving consumer demands. We are building strong relationships with our customers and partners, guided by the Benfen philosophy. Vivo is also committed to supporting the local communities and empowering them by virtue of technology. Because children are the nation's future, it is important to retain their interest and support them. We are grateful to all our customers for showering us with so much love and support throughout Vivo's journey and we will continue to open up limitless possibilities for our users in the future as well."
Similarly, Vivo's Brand Ambassador, Pradeep Khadka said, "I believe that as a leading brand, Vivo offers amazing customer service and smartphones to its users. The brand has always prioritized consumer demands, brought advanced technologies, stylish designs, and offer unique discounts, gifts, and services to keep its customers satisfied. I am quite thrilled to join hands with Vivo – a brand that thinks beyond the basic to offer the best to its users."
In the interim, Vivo announced the arrival of its latest upper-entry level Vivo Y15s smartphone in Nepal. The V15s has been said to further its vision of catering needs of youths in Nepal while delivering meaningful innovation. The device comes with a long-lasting 5,000mAh cell, a seamless fingerprint scanner mounted at the side, and an AI dual camera setup. It's marketed as an optimum smartphone for the youth who are always "On the Go" and demand a powerful handset. Launched at NPR 19,999, it carries a 6.51-inch Halo FullView screen with eye-protection technology and a MediaTek Helio P35 4G chipset built upon 12nm fabrication.