TG Macro software allows users to make macros for all gaming and accountancy chores. Even if you don't have a macro mouse or keyboard, it will give you the impression that you do.
You can automate operations because of its ability to record mouse movements, button presses, delays, and keyboard strokes.
Your mouse and keyboard are used by TG Macro to deliver input, simulating genuine hardware input. Although TGM was created with gamers in mind, it has much more potential. You may thus use it for daily tasks as well.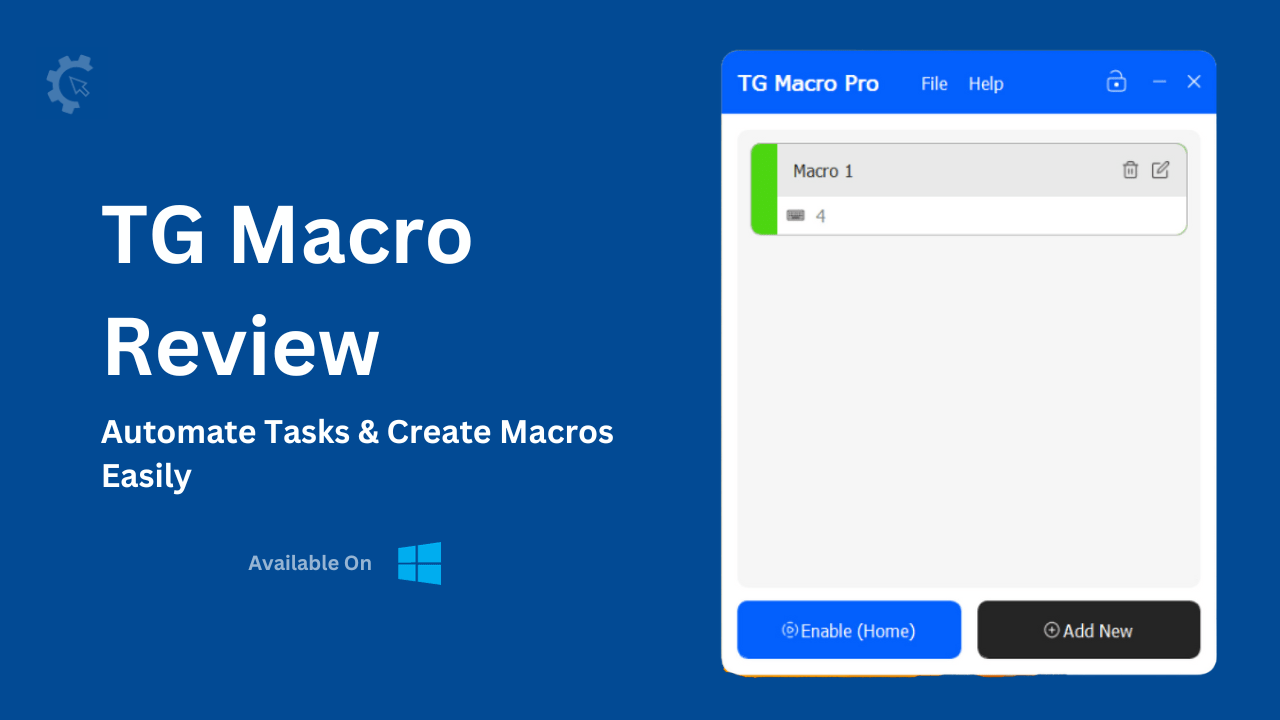 Features of TG Macro
A variety of effective uses are available from TG Macro that make it easier to complete daily tasks and play games.
Dynamic User Interface:
The program has a straightforward one-screen user interface that is included. To lessen eye strain during those late-night gaming sessions, you may also choose the dark mode.
For Gaming:
Use it in games like DA Hood and Cookie Clicker to dominate your opponents by creating macros with a few clicks.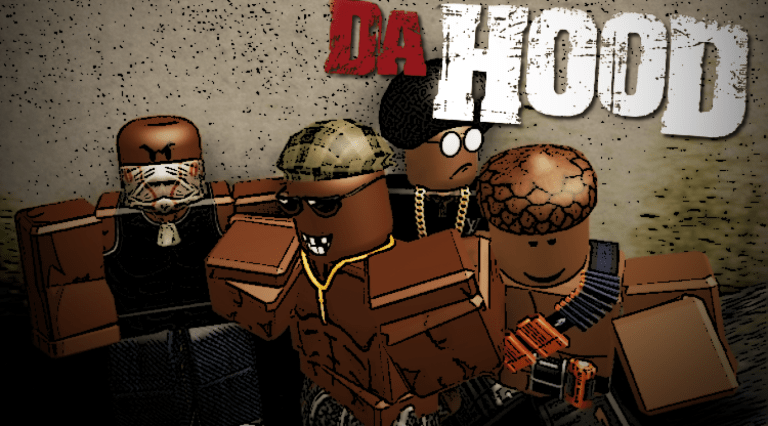 Daily Chores (like Data Entry jobs):
Make repetitive data input activities into macros to do hours of labor in a matter of minutes. To simplify your life, use macros in accounting software and Excel sheets.
Free of ads and fees:
No in-app advertisements or in-app subscriptions will bother you. In other words, there are no fees associated with using our product.
Security:
The program guarantees that user data is secure and free of infection. Furthermore, it does not gather private data like a person's social security number, bank account number, or credit card.
No Installation Needed
It is a ready to use software and you don't need to go through the hassle of a setup wizard to get the software working. Simply download and launch the application to use it on games or data entry jobs.
TG Macro Compatibility
You must adhere to a set of system specifications to download TG Macro onto your computer.
Operating System (OS): Windows 7, Windows Vista/XP, Windows 8.1, Windows 10, Windows 11
System: 32-bit, 64-bit, 86-bit
RAM: 2 GB, 4GB
Storage: Minimum 100 MB of free space
Drivers: Not required
Active Internet connection: Not required
Currently, the software is only available for Windows. However,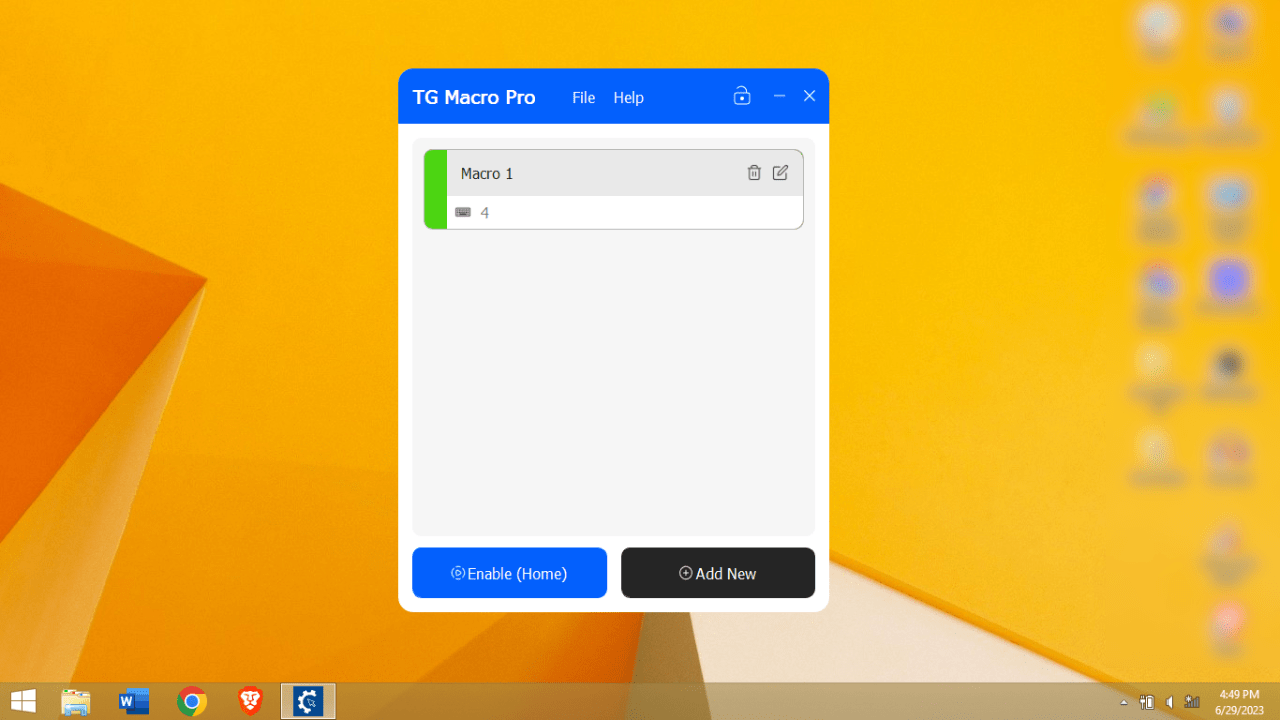 How to Download TG Macro on your PC?
To begin with,
Go to the official website: https://tgmacro.io
Click the Download link. This will direct you to a page where you can select the version of the utility you want to download on your PC.
Once you have selected it, wait for the download process.
Then you need to install TGM Macro on your PC by following the next steps:
On your device, go to the folder where the downloaded file was saved.
The TG Macro download link should be tapped.
Do a right-click on it.
To launch it immediately, choose "Run as administrator" from the drop-down option.
TGM game Macro is a ready-to-use program, so it won't need to go through the typical installation process.
Manual creation of macros using TG Macro :
Start TG Macro on your PC.
Select the option to "Add New Macro" located at the bottom right corner of the menu.
Add a name to your macro.
Select an action type for the macro
Select the "+" sign to choose between Text, Wait Mouse Key, Mouse Move, and Keyboard Key
Set the mouse positioning for the action by providing the 'X' and 'Y' coordinates.
"Alt + X" will take the current position of your cursor.
Click on "Save".
Choose a trigger option for your macro to start
Select "Key Event" from the "Trigger actions by" section.
Select one of the "Key Pressed", "Key Hold", or "Key Toggle" under "When".
Go to the "Keys" option and select "Click here to set key" to trigger your macro.
Choose any key on the keyboard and click on "Save'.
TG Macro Alternatives:
IO Auto Clicker:
Unlike TG Macro and Macro Gamer, IO Auto Clicker is not a full-fledged macro developer. Yet, it is the best option for automating clicks for a specified time.
The "Record & Playback" feature in the new software version allows you to create macros.
With that choice, you may click anywhere on the screen to create a macro. You can download this autoclicker from the official website.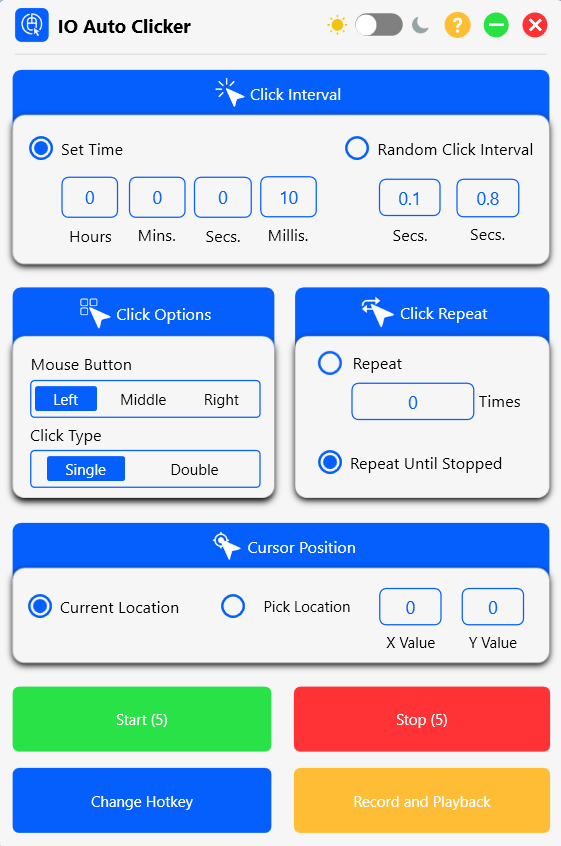 AutoHotKey (AHK):
The most recent version of AHK, which has several speed enhancements, was created by the developers. You can automate everything with the help of the AutoHotKey program on your computer.
You may develop macros using it. You may record the succession of activities you take when playing games.
Then, you may adjust each step and alter it as necessary to have the greatest possible gaming experience.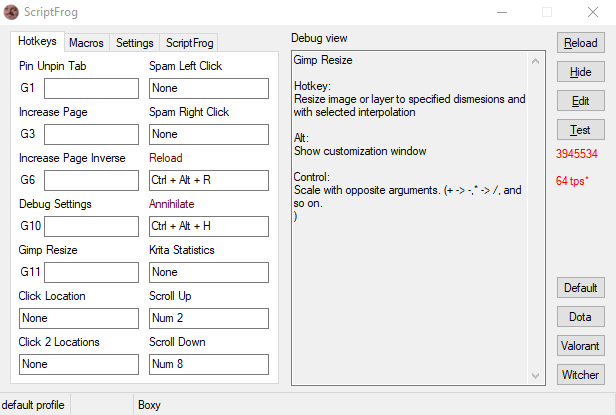 TinyTask:
With a few more capabilities, TinyTask is a full-featured macro builder comparable to The Macro Gamer and TG Macro.
You may make a macro with clicks, mouse movements, and keyboard key actions using TinyTask on your PC.
The issue with macros is that they are impossible to alter after they have been produced. Yet, from a speed viewpoint, you may alter how the macro is executed.
From a beginner's perspective, TinyTask is the easiest piece of software.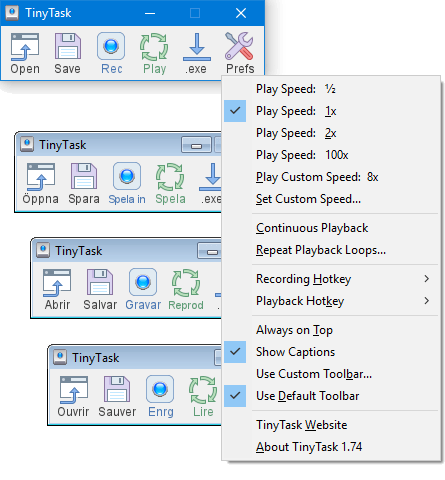 Conclusion:
TG Macro is a robust gaming macro program that can be used for daily chores and many methods to enhance your gaming experience.
It is a safe, open-source, free program that may be used with Windows PCs. The sad reality is that TG Macro is not supported by Linux- or Mac OS X-based devices, although there are workarounds.
All things considered, TG Macro is a useful tool for automating tasks, simplifying gaming, or adjusting controls.
FAQs
Q1. What are macros for automating tasks?
Ans: A form of automation tool called a macro that enables you to record a series of keystrokes and mouse events. It is a recorded sequence that will replay once the macro is executed.
Q2. Can macros be used to automate repetitive tasks in Excel?
Ans: In Microsoft Excel, you can record a macro with the preferred format, play it again as needed to automate a repeated activity, and so forth.
Q3. What type of automation is a macro?
Ans: The usage of macros facilitates automated input sequences that imitate keystrokes and mouse movements.
Q4. Why are macros used?
Ans: Automating repetitive chores is done via macros. It gives you the ability to extend the capability of forms, reports, and controls without having to write any code in a VBA module.