The International Data Corporation (IDC) reported Vivo mobile resurgence to the top 5 smartphone companies in the world in Q1 2020 with a 9.0% unit market share and a 7.1% year-over-year growth, which is the largest annual growth rate among other top 5 vendors including Samsung, Huawei, Apple, and Xiaomi. Vivo's comeback is primarily led by the success of its low-end and mid-range Y and S series smartphones in the Indian market.
Similarly, IDC reported a 12.3% market share in Q1 2020 for Vivo in Nepal considering a fact that the company has been successful in the same low-end to mid-range segment that comprises Vivo Y, S, and V series smartphones.
However, the appreciating US dollars and the stagnant launch, supply and, sales amidst ongoing pandemic will surely affect the numbers. But let's keep this for the upcoming Q3.
On the other hand, as the lockdown has eased, Vivo is launching two new smartphones in its V and Y series in Nepal – the Vivo V19 (first week of July) and the Vivo Y30. Here we'll be showing you an updated list Vivo Mobile price in Nepal alongside a quick specs list of each.
Vivo Mobile Price in Nepal
| | |
| --- | --- |
| VIVO Mobile | Price in Nepal (MRP) |
| Vivo Y90 | Rs. 14,490 |
| Vivo Y91C 2020 | Rs. 15,590 |
| Vivo Y93 | Rs. 17,890 |
| Vivo Y11 2019 | Rs. 19,490 |
| Vivo Y12 | Rs. 21,590 |
| Vivo Y15 | Rs. 24,190 |
| Vivo Y17 | Rs. 25,190 |
| Vivo Y19 | Rs. 27,990 |
| Vivo S1 Mini | Rs. 28,390 (4GB/128GB) |
| Vivo S1 | Rs. 31,490 (6GB/128GB) |
| Vivo S1 Pro | Rs. 36,790 |
| Vivo V15 | Rs. 41,990 |
| Vivo V15 Pro | Rs. 50,390 |
| Vivo V17 Pro | Rs. 52,490 |
| Vivo V19 | Rs. 49,999 |
| Vivo Y30 | Coming Soon |
Vivo Y90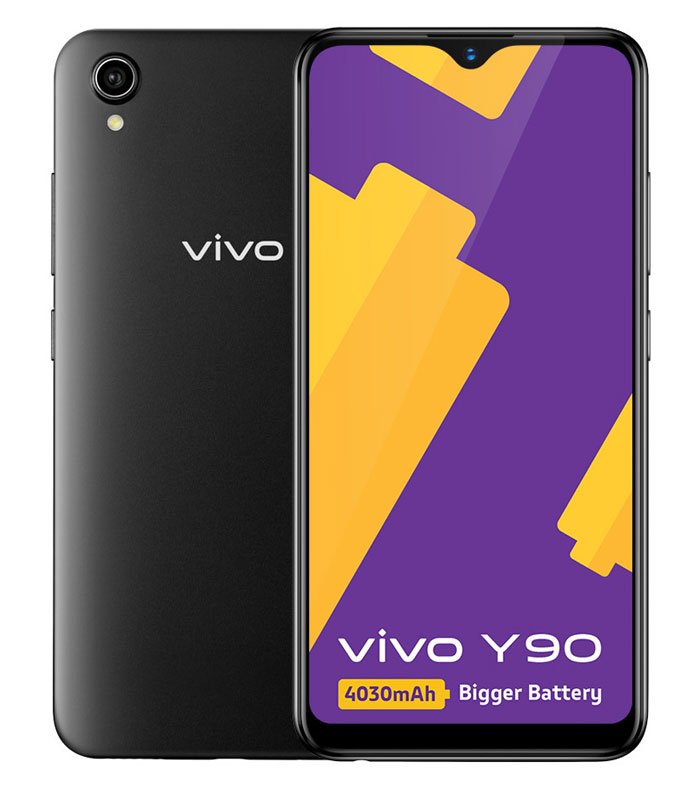 VIVO Y90 SPECS
6.22-inch IPS LCD
720 x 1520 pixels resolution, 19:9 ratio (~270 ppi density)
Mediatek MT6761 Helio A22 (12 nm), Quad-core 2.0 GHz Cortex-A53
Android 8.1 (Oreo), FunTouch OS 4.5
2GB RAM
16GB/32GB eMMC 5.1 storage, dedicated microSDXC slot for expansion
Rear camera: 8 MP, f/2.0, AF, LED flash, panorama
Front camera: 5 MP, f/1.8
Accelerometer, proximity, compass
Non-removable Li-Po 4030 mAh battery
Colors: Black, Gold
Vivo Y91C 2020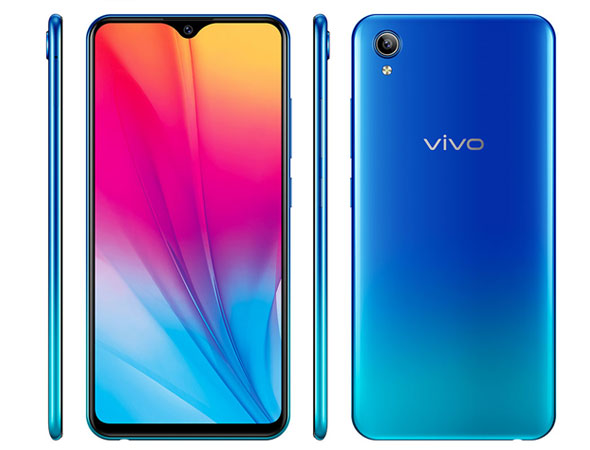 VIVO Y91C 2020 SPECS
6.2-inch IPS LCD
720 x 1520 pixels resolution, 19:9 ratio (~270 ppi density)
Mediatek MT6762 Helio P22 (12 nm), Octa-core 2.0 GHz Cortex-A53
Android 8.1 (Oreo), FunTouch OS 4.5
2GB RAM
16GB/32GB eMMC 5.1 storage, dedicated microSDXC slot for expansion
Rear camera: 13 MP,f/2.2, PDAF, LED flash, panorama
Front camera: 5 MP, f/1.8
Accelerometer, proximity, compass
Non-removable Li-Po 4030 mAh battery
Colors: Fusion Black, Sunset Red, Ocean Blue
Vivo Y93
VIVO Y93 SPECS
6.22-inch IPS LCD
720 x 1520 pixels resolution, 19:9 ratio (~270 ppi density)
Mediatek MT6762 Helio P22 (12 nm), Octa-core 2.0 GHz Cortex-A53
Android 8.1 (Oreo), FunTouch OS 4.5
2GB RAM
32GB eMMC 5.1 storage, microSDXC slot for expansion
Rear camera: Dual – 13 MP, f/2.2, PDAF + 2 MP, f/2.4, (depth), LED flash, panorama
Front camera: 8 MP, f/2.0
Fingerprint (rear-mounted), accelerometer, proximity, compass
Non-removable Li-Po 4030 mAh battery
Colors: Starry Black, Nebula Purple
Vivo Y11 2019
VIVO Y11 2019 SPECS
6.35-inch IPS LCD
720 x 1544 pixels resolution, ~81.4% screen-to-body ratio (~268 ppi density)
Qualcomm SDM439 Snapdragon 439 (12 nm), Octa-core (4×1.95 GHz Cortex-A53 & 4×1.45 GHz Cortex A53)
Android 9.0 (Pie), Funtouch OS 9.1
3GB RAM
32GB eMMC 5.1 storage, microSDXC shared SIM slot for expansion
Rear camera: Dual – 13 MP, f/2.2, PDAF 2 MP, f/2.4, (depth), LED flash, panorama
Front camera: 8 MP, f/1.8
Fingerprint (rear-mounted), accelerometer, proximity, compass
Non-removable Li-Po 5000 mAh battery, 10W charging
Colors: Coral Red, Jade Green
Vivo Y12
VIVO Y12 SPECS
6.35-inch IPS LCD
720 x 1544 pixels resolution, ~81.4% screen-to-body ratio (~268 ppi density)
Mediatek MT6762 Helio P22 (12 nm), Octa-core 2.0 GHz Cortex-A53
Android 9, FunTouch 9
3GB/4GB RAM
32GB/64GB eMMC 5.1 storage, dedicated microSDXC slot
Rear camera: Triple – 13 MP, f/2.2, PDAF + 8 MP, f/2.2, 16mm (ultrawide) + 2 MP, f/2.4, (depth)
Front camera: 8 MP, f/2.2
Fingerprint (rear-mounted), accelerometer, proximity, compass
Non-removable Li-Po 5000 mAh battery
Colors: Aqua Blue, Burgundy Red
Vivo Y15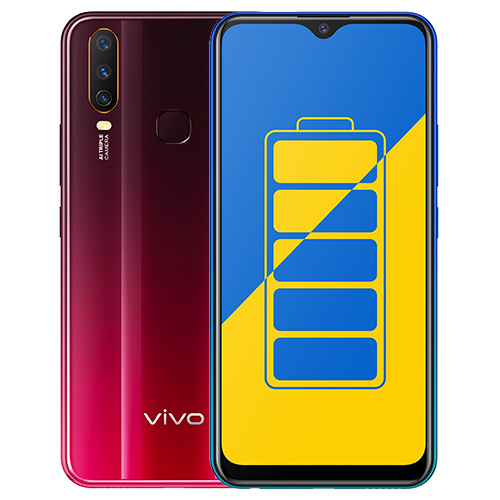 VIVO Y15 SPECS
6.35-inch IPS LCD
720 x 1544 pixels resolution, ~81.4% screen-to-body ratio (~268 ppi density)
Mediatek MT6762 Helio P22 (12 nm), Octa-core 2.0 GHz Cortex-A53
3GB RAM
64GB eMMC 5.1 storage, dedicated microSDXC slot
Rear camera: Triple – 13 MP, f/2.2, PDAF + 8 MP, f/2.2, 16mm (ultrawide) + 2 MP, f/2.4, (depth)
Front camera: 16 MP, f/2.0, 26mm (wide), 1/3.06″, 1.0µm
Fingerprint (rear-mounted), accelerometer, proximity, compass
Non-removable Li-Po 5000 mAh battery
Colors: Aqua Blue, Burgundy Red
Vivo Y17
VIVO Y17 SPECS
6.35-inch IPS LCD
720 x 1544 pixels resolution, ~81.4% screen-to-body ratio (~268 ppi density)
Mediatek MT6765 Helio P35 (12nm), Octa-core (4×2.3 GHz Cortex-A53 & 4×1.8 GHz Cortex-A53)
Android 9.0 (Pie), Funtouch 9
4GB RAM
128GB eMMC 5.1 storage, dedicated microSDXC slot
Rear camera: 13 MP, f/2.2, PDAF + 8 MP, f/2.2, 16mm (ultrawide) + 2 MP, f/2.4, (depth)
Front camera: 20 MP, f/2.0, (wide), 1/2.8″, 1.0µm
Fingerprint (rear-mounted), accelerometer, proximity, compass
Non-removable Li-Po 5000 mAh battery, 18W charging
Colors: Mineral Blue, Mystic Purple, Peach Pink, Peacock Blue
Vivo Y19
VIVO Y19 SPECS
6.53-inch IPS LCD
720 x 1544 pixels resolution, 19.5:9 ratio (~395 ppi density)
Mediatek MT6768 Helio P65 (12nm), Octa-core (2×2.0 GHz Cortex-A75 & 6×1.7 GHz Cortex-A55)
Android 9.0 (Pie), Funtouch 9.2
6GB RAM
128GB eMMC 5.1 storage, dedicated microSDXC slot
Rear camera: Triple – 16 MP, f/1.8, (wide), PDAF + 8 MP, f/2.2, 13mm (ultrawide) + 2 MP, f/2.4, (macro)
Front camera: 16 MP, f/2.0, 26mm (wide), 1/3.06″, 1.0µm
Fingerprint (rear-mounted), accelerometer, proximity, compass
Non-removable Li-Po 5000 mAh battery, 18W charging, 5W reverse charging
Colors: Magnetic Black, Spring White
Vivo S1 Mini/S1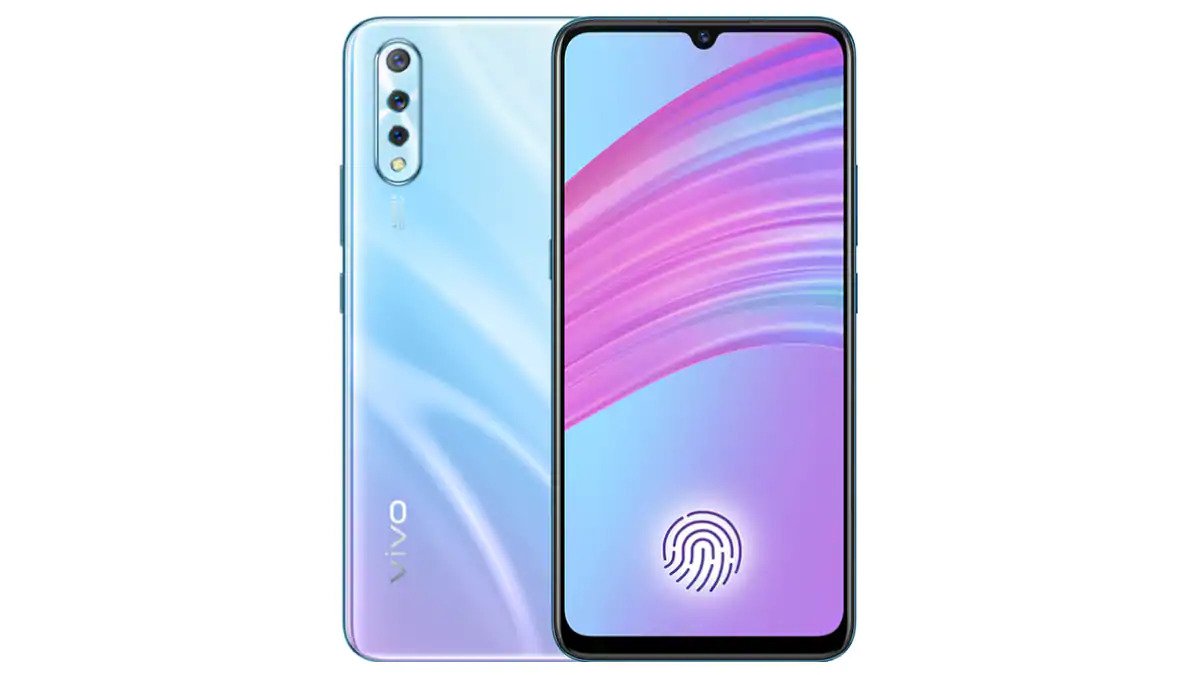 VIVO S1 MINI/S1 SPECS
6.38-inch Super AMOLED
1080 x 2340 pixels resolution, 19.5:9 ratio (~404 ppi density)
Mediatek MT6768 Helio P65 (12nm), Octa-core (2×2.0 GHz Cortex-A75 & 6×1.7 GHz Cortex-A55)
Android 9.0 (Pie), Funtouch 9
4GB/6GB RAM
128GB eMMC 5.1 storage, dedicated microSDXC slot
Rear camera: Triple – 16 MP, f/1.8, (wide), 1/2.8″, 1.12µm, PDAF + 8 MP, f/2.2, 13mm (ultrawide), 1/4.0″, 1.12µm + 2 MP, f/2.4, (depth)
Front camera: 32 MP, f/2.0, 26mm (wide), 1/2.8″, 0.8µm
Fingerprint (under display, optical), accelerometer, proximity, compass
Non-removable Li-Po 4500 mAh battery, 18W charging
Colors: Diamond Black, Skyline Blue, Cosmic Green
Vivo S1 Pro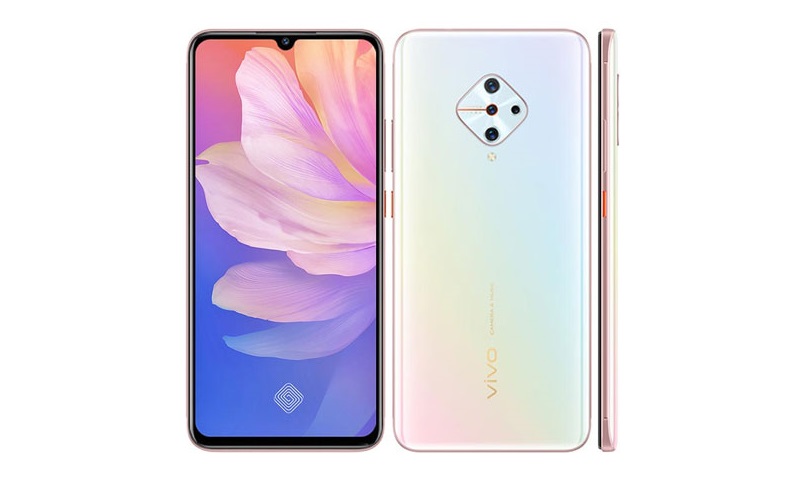 VIVO S1 PRO SPECS
6.38-inch Super AMOLED
1080 x 2340 pixels resolution, 19.5:9 ratio (~404 ppi density)
Qualcomm SDM665 Snapdragon 665 (11 nm), Octa-core (4×2.0 GHz Kryo 260 Gold & 4×1.8 GHz Kryo 260 Silver)
Android 9.0 (Pie), Funtouch 9.2
8GB RAM
128GB eMMC storage, microSDXC shared SIM slot
Rear camera: Quad – 48 MP, f/1.8, (wide), 1/2.0″, 0.8µm, PDAF + 8 MP, f/2.2, 13mm (ultrawide), 1/4.0″, 1.12µm + 2 MP, f/2.4, (macro) + 2 MP, f/2.4, (depth)
Front camera: 32 MP, f/2.0, 26mm (wide), 1/2.8″, 0.8µm
Fingerprint (under display, optical), accelerometer, gyro, proximity, compass
Non-removable Li-Po 4500 mAh battery, 18W charging
Colors: Knight Black, Fancy Sky
Vivo V15
VIVO V15 2019 SPECS
6.53-inch IPS LCD
1080 x 2340 pixels resolution, 19.5:9 ratio (~395 ppi density)
Mediatek MT6771 Helio P70 (12nm), Octa-core (4×2.1 GHz Cortex-A73 & 4×2.0 GHz Cortex-A53)
Android 9.0 (Pie), Funtouch 9
6GB RAM
128GB eMMC 5.1 storage, dedicated microSDXC slot
Rear camera: Triple – 24 MP, f/1.8, 1/2.8″, 1.12µm, Dual Pixel PDAF + 8 MP, f/2.2, 13mm (ultrawide), 1/4.0″, 1.12µm + 5 MP, f/2.4, (depth)
Front camera: Motorized pop-up 32 MP, f/2.0, 26mm (wide), 1/2.8″, 0.8µm
Fingerprint (rear-mounted), accelerometer, gyro, proximity, compass
Non-removable Li-Po 4000 mAh battery
Colors: Topaz Blue, Glamour Red, Frozen Black, Royal Blue
Vivo V15 Pro
VIVO V15 PRO SPECS
6.39-inch Super AMOLED
1080 x 2340 pixels resolution, 19.5:9 ratio (~404 ppi density)
Qualcomm SDM675 Snapdragon 675 (11 nm), Octa-core (2×2.0 GHz Kryo 460 Gold & 6×1.7 GHz Kryo 460 Silver)
Android 9.0 (Pie), Funtouch 9
6GB RAM
128GB eMMC 5.1 storage, dedicated microSDXC slot
Rear camera: Triple – 48 MP, f/1.8, (wide), 1/2.0″, 0.8µm, PDAF + 8 MP, f/2.2, 13mm (ultrawide) + 5 MP, f/2.4, (depth)
Front camera: Motorized pop-up 32 MP, f/2.0, 26mm (wide), 1/2.8″, 0.8µm
Fingerprint (under display, optical), accelerometer, gyro, proximity, compass
Non-removable Li-Po 3700 mAh battery, 18W charging, up to 24% charge in 15 minutes as advertised
Colors: Topaz Blue, Coral Red, Ruby Red
Vivo V17 Pro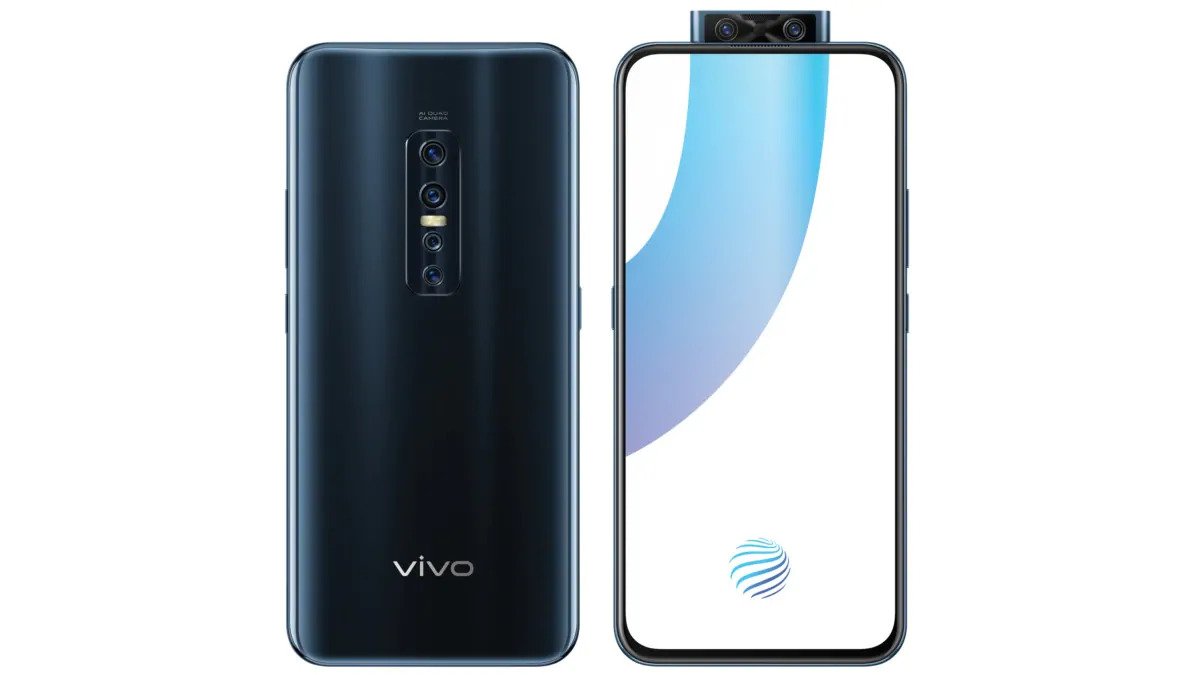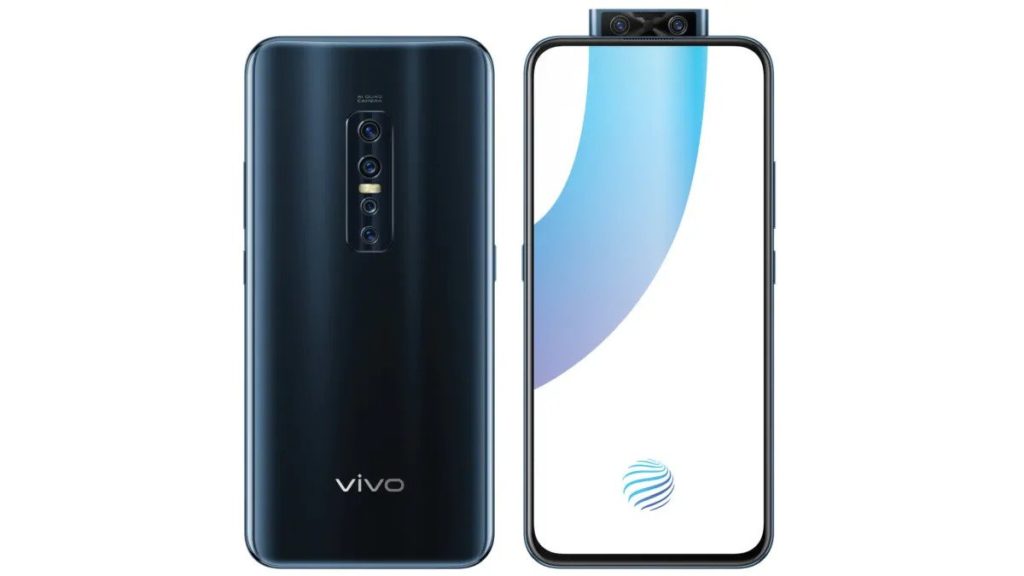 VIVO V17 PRO SPECS
6.44-inch Super AMOLED
1080 x 2400 pixels resolution, 20:9 ratio (~409 ppi density)
Qualcomm SDM675 Snapdragon 675 (11 nm), Octa-core (2×2.0 GHz Kryo 460 Gold & 6×1.7 GHz Kryo 460 Silver)
Android 9.0 (Pie), Funtouch 9.1
8GB RAM
128GB UFS 2.1 storage
Rear camera: Quad – 48 MP, f/1.8, 26mm (wide), 1/2.0″, 0.8µm, PDAF + 8 MP, f/2.2, 16mm (ultrawide), 1/4.0″, 1.12µm + 13 MP, (telephoto), 1/3.1″, 1.12µm, PDAF, 2x optical zoom + 2 MP, f/2.4, (depth)
Front camera: Dual – Motorized pop-up 32 MP, f/2.0, 26mm (wide), 1/2.8″, 0.8µm + Motorized pop-up 8 MP, 17mm (ultrawide)
Fingerprint (under display, optical), accelerometer, gyro, proximity, compass
Non-removable Li-Po 4100 mAh battery, 18W charging
Colors: Crystal Black, Crystal Sky, Midnight Ocean