As time changes and the technologies evolve, let's agree to disagree on the fact that we've become lazier to the extent that we've lost the track of time and our health. But thanks to all the advancements in tech, we've fitness trackers to keep our fitness level in check, and they have made it easier to set our fitness goals. But it isn't all about fitness and the reason people prefer fitness trackers in the form of watches is that fitness bands aren't much versatile after all. With the Huawei Watch GT 2, fitness tracking got simpler and classier but what's so special about it?
If you look at the modern fashion trends, you will be aware that fashion is no longer just about the appearance but also about functionality and the Huawei Watch GT 2 simply looks like a classic timepiece on your wrist. A 1.9-inch AMOLED panel etched to a black frame upfront with 454 x 454 pixels resolutions in a circular design and a versatile 22mm strap fitting is what makes it simple, elegant and not something out of this world.
We have a 46mm pebble brown variant of the Watch GT 2 with a brown leather strap which makes it sleek, classy and to say the least phenomenal. But if brown isn't your color, there's a black rubber strap that comes bundled inside the box for those sweatier workout sessions as well as sporty look.
Etched to the frame are two crowns; while the upper crown toggles the app drawer, the lower right crown is customizable. In between the two crowns, lies the loudspeaker and the lower end of the left side sees the microphone which means no dropped calls whilst your device is connected. From normal workouts to 15 different professional sports modes, the Huawei Watch GT 2 can truly be said to be a comprehensive fitness tracker that's accurate monogrammed pillow.
If the 46mm size face is a little bulky for you, there's a 42mm variant of the Watch GT 2 as well with 1.39-inch of the same AMOLED goodness. The Watch GT 2 42 mm version has no concave moment characters on the outer ring, resulting in a smaller dial diameter and thickness, although the battery endurance is a little less, it does bring a small, delicate figure hence closer to a traditional watch.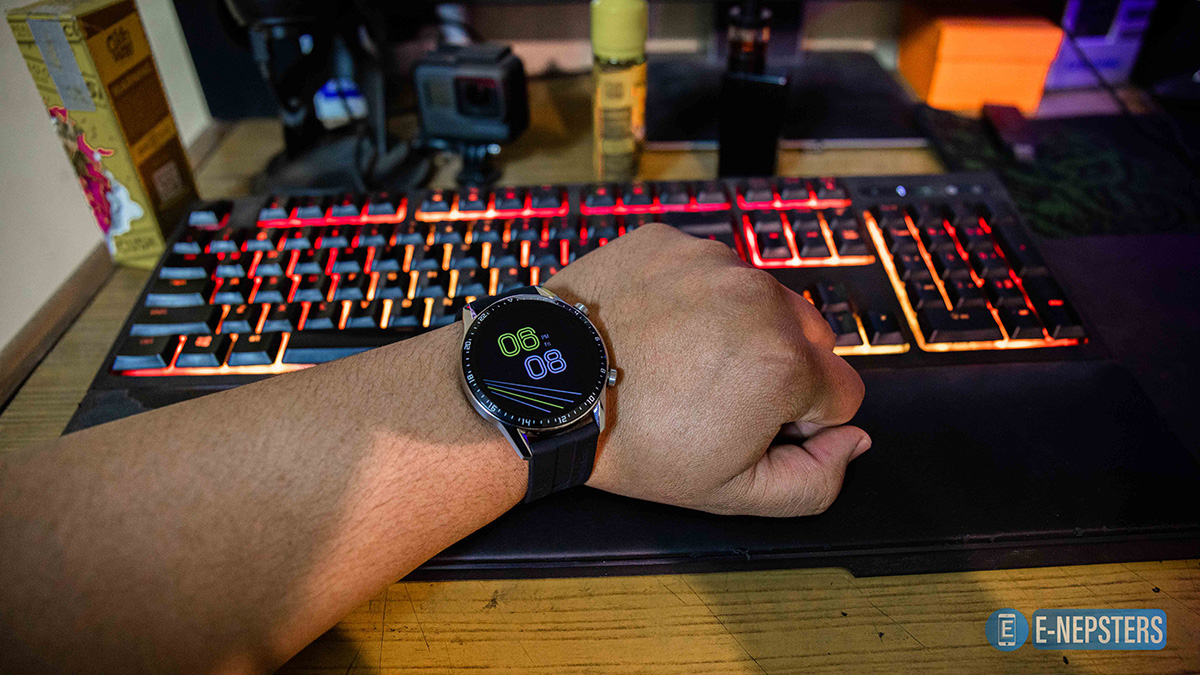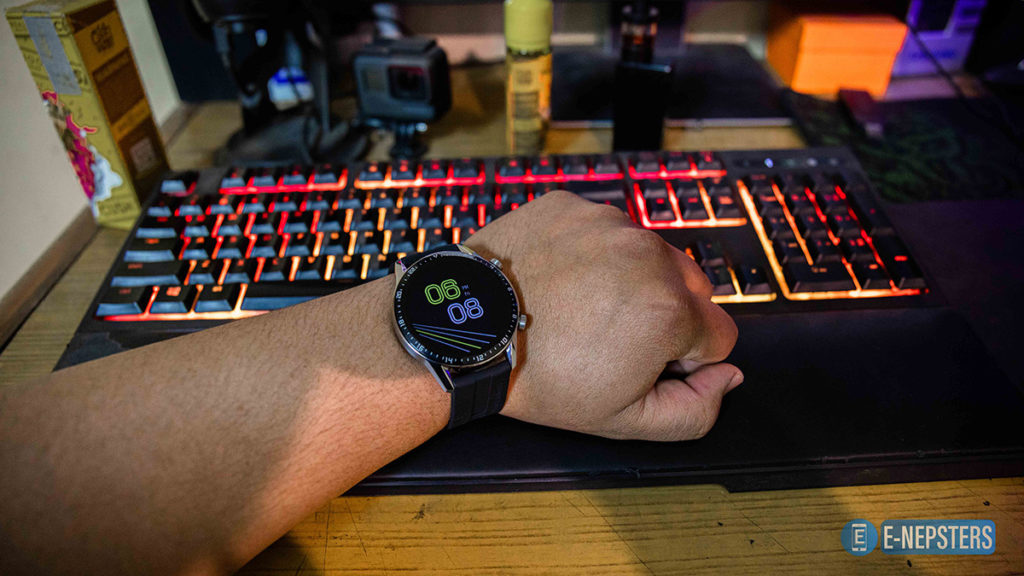 In pursuit of a great fusion of classic and modern styles, Huawei Watch GT 2 is built-in with many specially designed watch faces for you to choose from and customize. You can choose between the traditional or modern faces of the digital watch and find one that fits your style. Both the variants of the Huawei Watch GT 2 are water-resistant up to 5ATM/50m which is a huge plus.
The Huawei Watch GT 2 carries the detection of blood oxygen (SpO2), heart rate monitoring, sleep monitoring, and other functions for health monitoring. And we have realized a series of health monitoring systems based on these basic tests, such as heart health, sleep health, exercise health and so on. The HUAWEI TruSeen 3.5 from Huawei Watch GT 2 is what enables it to detect oxygen saturation, which is critical for extreme enthusiasts including mountaineering and office workers who work long hours. The former can be detected by blood oxygen to prevent themselves from low blood oxygen levels at high altitudes and avoid serious altitude reactions.
Huawei has developed its own intelligent wearable devices around a complete sports and health monitoring management system. Huawei Sports Health APP is solely responsible for the software side, while on the hardware side, like flagship wearable device Huawei Watch GT 2 obviously has the most ideal and detailed features.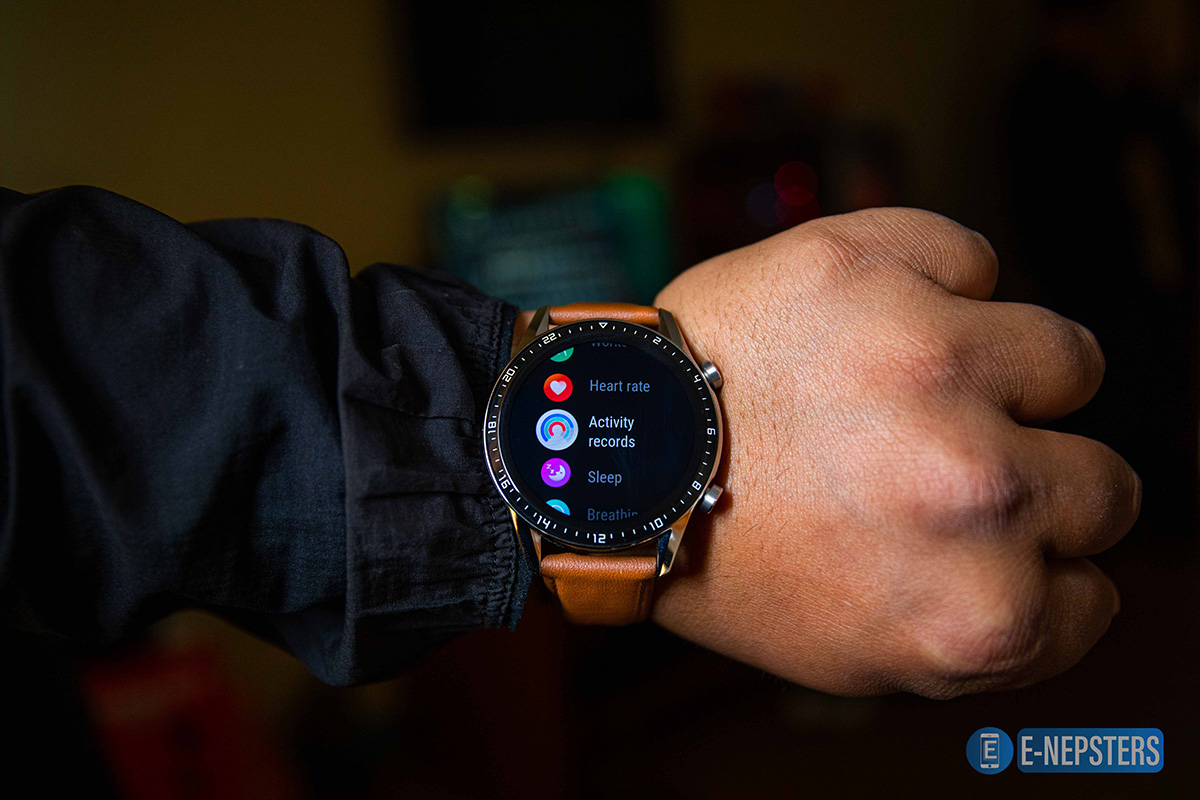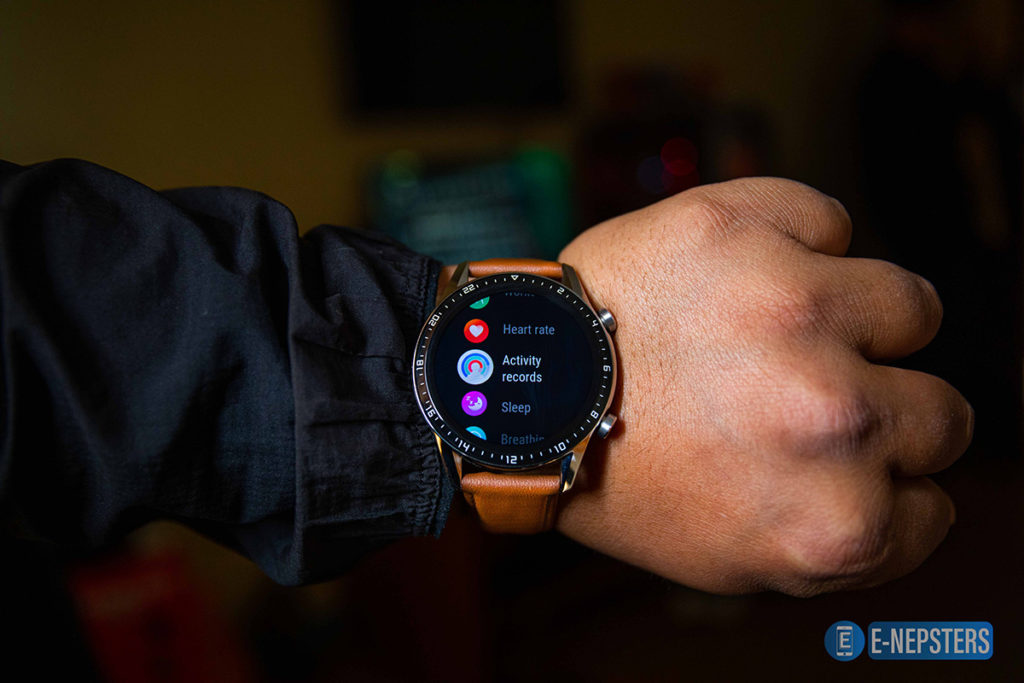 Backing it all up, there's no Google Wear OS and Huawei has taken the matter into their own hands with Harmony/Lite OS running the show here. With support for both Android and iOS, the Huawei Watch GT 2 has you covered on connectivity grounds with Bluetooth 5.1 and Bluetooth LE 5.1 which provides for the iconic 15-day battery life. Yup, that's true and is accounted for. For those of you concerned, there's no Wi-Fi and no app store to bloat the GT 2 with random apps but instead, it's the clean and simple no-nonsense smartwatch that doesn't spook the people around you.
To conclude for a timeless and elegant watch that truly blends fashion and functionality, the Huawei Watch GT 2 priced at Rs. 29,990 is truly worth it. For more fun stuff on the tech that blends into your life, stay tuned to E-Nepsters.