Bajaj has been able to successfully compete in the motorcycle market of Nepal. The company is currently offering 18 models of their motorcycle, which is kinda ridiculous. From the Pulsar 150 to the new Dominar 400, the company has clearly shown how they are adapting and implementing the new technology, while offering the best at the same time. At the heart of the every Bajaj motorcycle, it gets its very own DTSi (Digital Twin/Triple Spark Ignition) engine which helps for faster combustion, thus resulting in more torque, reduced emission, and increased mileage.
The combination of new technology, ensuring strong offers sales, service and availability of genuine spares parts across the country have no wonder made Bajaj a successful company among Nepali bike riders.
A bike such as Pulsar 220 is one of the best sellers to date because of its performance, while the likes of NS 200 and 160 are increasing either, thanks to their naked streetfighter body, whereas 'AS' has made its name for adventure tourer. On the other hand, the RS segments offer the racing version i.e. RS200. And the latest offering from the company; the Dominar 400 which is the cruiser sports looks promising as ever.
Without further ado, let's take a look at the list of the best that the company has to offer.
Bajaj Dominar 400
Displacement: 373.3cc
Mileage: 30 kmpl
Max Power: 35 PS@ 8500 rpm
Torque: 35 PS @ 6500 rpm
Top Speed: 156kmph
No. of gears: 6
Fuel tank: 13L
Kerb weight (kg): ‎182
Bajaj Dominar 400 Old Price: Rs. 4,69,900
Bajaj Dominar 400 New Post Budget Price: Rs. 5,99,900
Bajaj Avenger 220
Displacement: 220cc
Mileage: 35kmpl
Max Power: 19.03 PS @ 8400 rpm
Torque: 17.5 Nm @ 7000 rpm
Top Speed: 115kmph
No. of gears: 5
Fuel tank: 14L (3.4L reserve)
Kerb weight (kg): ‎155
Bajaj Avenger 220 Old Price, Street: Rs. 2,98,900 / New Price: Rs. 3,20,900
Bajaj Avenger 220 Old Price, Cruise: Rs. 3,09,900 / New Price: Rs. 3,42,900
Bajaj Avenger 150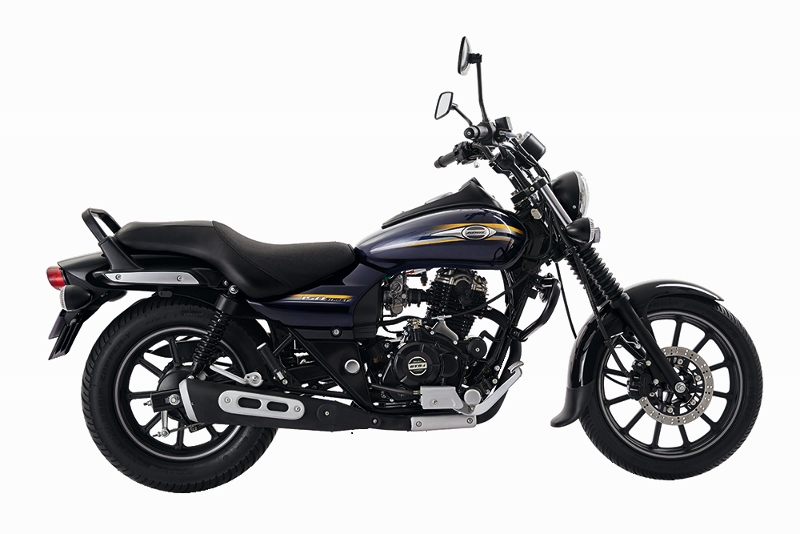 Displacement: 149cc
Mileage: 45kmpl
Max Power: 14.3 PS @ 9500 rpm
Torque: 12.3 Nm @ 6500 rpm
Top Speed: 105 kmph
No. of gears: 5
Fuel tank: 14 (3.4 reserve)
Kerb Weight (kg): ‎148
Bajaj Avenger 150 Street: Rs. 2,54,900
Bajaj Pulsar 220F
Displacement: 220cc
Mileage: 35kmpl
Max Power: 21 PS @ 8,500 rpm
Torque: 19 Nm @ 7,000 rpm
Top Speed: 134kmph
No. of gears: 5
Fuel tank: 15L (3.2 reserve)
Kerb weight (kg): ‎150
Bajaj Pulsar 220F Old Price: Rs. 2,93,900
Bajaj Pulsar 220F New Post Budget Price: Rs. 3,19,900
Bajaj Pulsar RS 200
Displacement: 199.5cc
Mileage: 35kmpl
Max Power: 24.2 PS @ 9750 rpm
Torque: 18.6 Nm @8000 rpm
Top Speed: 140.8 kmph
No. of gears: 6
Fuel tank: 13L
Kerb Weight (kg): ‎ 165
Bajaj Pulsar RS 200 Price: Rs. 3,99,900
Bajaj Pulsar AS 200
Displacement: 200cc
Mileage: 40 kmpl
Max Power: 23.20 PS @ 9,500 rpm
Torque: 18.30 Nm @ 8,000 rpm
Top Speed: 136 kmph
No. of gears: 5
Fuel tank: 12L
Kerb Weight (kg): ‎153
Bajaj AS 200 Price: Rs. 2,86,900
Bajaj Pulsar AS 150
Displacement: 149.5cc
Mileage: 45kmpl
Max Power (PS @ rpm):16.8 PS @ 9500 rpm
Torque (Nm @rpm): 13 Nm @ 7000 rpm
Top Speed: 110 kmph
No. of gears: 5
Fuel tank: 12L
Kerb Weight (kg): ‎143
Bajaj Pulsar AS 150 Price: Rs.2,51,900
Bajaj Pulsar NS 200
Displacement: 199.5cc
Mileage: 35kmpl
Max Power: 23.17 PS @ 9500
Torque: 18.3 Nm @ 8000
Top Speed: 136 kmph
No. of gears: 6
Fuel tank: 12L
Kerb Weight (kg): ‎152
Bajaj NS 200 Old Price: Rs. 2,95,900
Bajaj NS 200 New Post Budget Price: Rs. 3,29,900
Bajaj Pulsar NS 160
Displacement: 160.3 cc
Mileage: 35kmpl
Max Power: 15.5 PS @ 8500 rpm
Torque: 14.6 Nm @ 6500 rpm
Top Speed: 120 kmph
No. of gears: 5
Fuel tank: 12L
Kerb Weight (kg): 142
Bajaj Pulsar NS 160 Old Price: Rs. 2,63,900
Bajaj Pulsar NS 160 New Post Budget Price: Rs. 2,92,900
Bajaj Pulsar 180
Displacement: 178.6 cc
Mileage: 35kmpl
Max Power: 17.02 PS@ 8500 rpm
Torque: 14.22 Nm @ 6500 rpm
Top Speed: 122 kmph
No. of gears: 5
Fuel tank: 15L
Kerb Weight (kg): ‎145
Bajaj Pulsar 180 Old Price: Rs. 2,54,900
Bajaj Pulsar 180 New Post Budget Price: Rs. 2,79,900
Bajaj Pulsar 150
Displacement: 149 cc
Mileage: 45kmpl
Max Power: 13.8 PS @ 8000 rpm
Torque: 13.4 Nm @ 6000 rpm
Top Speed: 115
No. of gears: 5
Fuel tank: 15L
Kerb Weight (kg): ‎144
Bajaj Pulsar 150 Old Price: Rs. 2,42,900
Bajaj Pulsar 150 New Post Budget Price: Rs. 2,49,900
Bajaj V15
Displacement: 149.5 cc
Mileage: 40 kmpl
Max Power: 12 PS @ 7500rpm
Torque: 13 Nm @ 5500rpm
Top Speed: 109kmph
No. of gears: 5
Fuel tank: 13L
Kerb weight (kg): 135.5
Bajaj V15 Old Price: Rs. 2,15,900
Bajaj V15 New Post Budget Price: Rs. 2,19,900
Bajaj Discover 150
Displacement: 144.8 cc
Mileage: 60 kmpl
Max Power: 14.3 PS @8500 rpm
Torque: 12.75 Nm @ 6500 rpm
Top Speed: 110kmph
No. of gears: 5
Fuel tank: 10L
Kerb Weight (kg): ‎132
Bajaj Discover 150 F Price: Rs. 1,99,900
Bajaj Discover 150S Old Price: Rs. 2,05,900 / New Price: Rs. 2,09,900
Bajaj Discover  125
Displacement: 124.6 cc
Mileage: 58kmpl
Max Power: 10.9 PS @ 8000 rpm
Torque: 10.80 Nm @ 5500 rpm
No. of gears: 5
Top Speed: 100 kmph
Fuel tank: 8L
Kerb Weight (kg): ‎120.5
Bajaj Discover 125 Old Price, Disc: Rs. 1,92,900 / New Price: Rs. 1,97,900
Bajaj Discover 125 Old Price, Drum: Rs. 1,83,900 / New Price: Rs. 1,88,900
Bajaj Platina ES 100
Displacement: 102 cc
Mileage: 80kmpl
Max Power: 8 PS @ 7500 rpm
Torque: 8.6 Nm @ 5500 rpm
Top Speed: 90kmph
No. of gears: 4
Fuel tank: 11L
Kerb Weight (kg): ‎108
Bajaj Platina ES 100 Price: Rs. 1,56,900 / New Price: 1,61,900