Samsung's latest flagship, the Galaxy Note 10 Plus is the company's biggest and most powerful phone yet. Even though the Galaxy Note series has evolved a lot over the years, the core formula hasn't changed: a powerful smart-phone with huge screen size, with the best imaginable hardware available, a huge battery and the unmatched stylus experience of the S-Pen. It is also the first time we've had the most fun while testing a phone due to its five cameras and smart photo filters.
Design & Display: One of the best
The Samsung Galaxy Note 10 Plus clearly looks and feels different from its predecessor; the Galaxy Note 9. The body is sleek and has a solid feel to it. The glass panel on the back is amazing but is prone to scratches, so a clear case is a must to showcase its beauty while protecting the device itself.
SAMSUNG GALAXY NOTE 10 PLUS SPECS
Display: 6.8-inch, 3040 x 1440 pixels resolution, Dynamic AMOLED with tone mapping
RAM: 12GB
Storage: 256GB UFS 3.0, microSD expansion
Battery: 4,300mAh
3D ToF camera
Chipset: Exynos 9825
S Pen Features: Bluetooth LE, accelerometer and gyroscope for motion controls
Rear camera: 12MP, f/1.5 and f/2.4 dual aperture, OIS + 16MP, f/2.2 wide-angle camera + 12MP, f/2.1, 45-degree telephoto camera
Selfie camera: 10MP, f/2.2
In-display ultrasonic fingerprint sensor
The phone is available in four shiny colors: Aura Black, Aura Blue, Aura White (which we have as a review unit) and the much-talked Aura Glow (which I would've rather preferred). The punch hole front isn't all that pronounced and doesn't look half bad as it did feel a little off to me. I would've rather prefer it to be on the top corners. But then again, this isn't much of a big deal as the display looks beautiful regardless. The display also houses an in-display fingerprint sensor which is pretty fast and accurate (compared to other in-display scanners) but does not compare against the traditional rear-mounted sensors.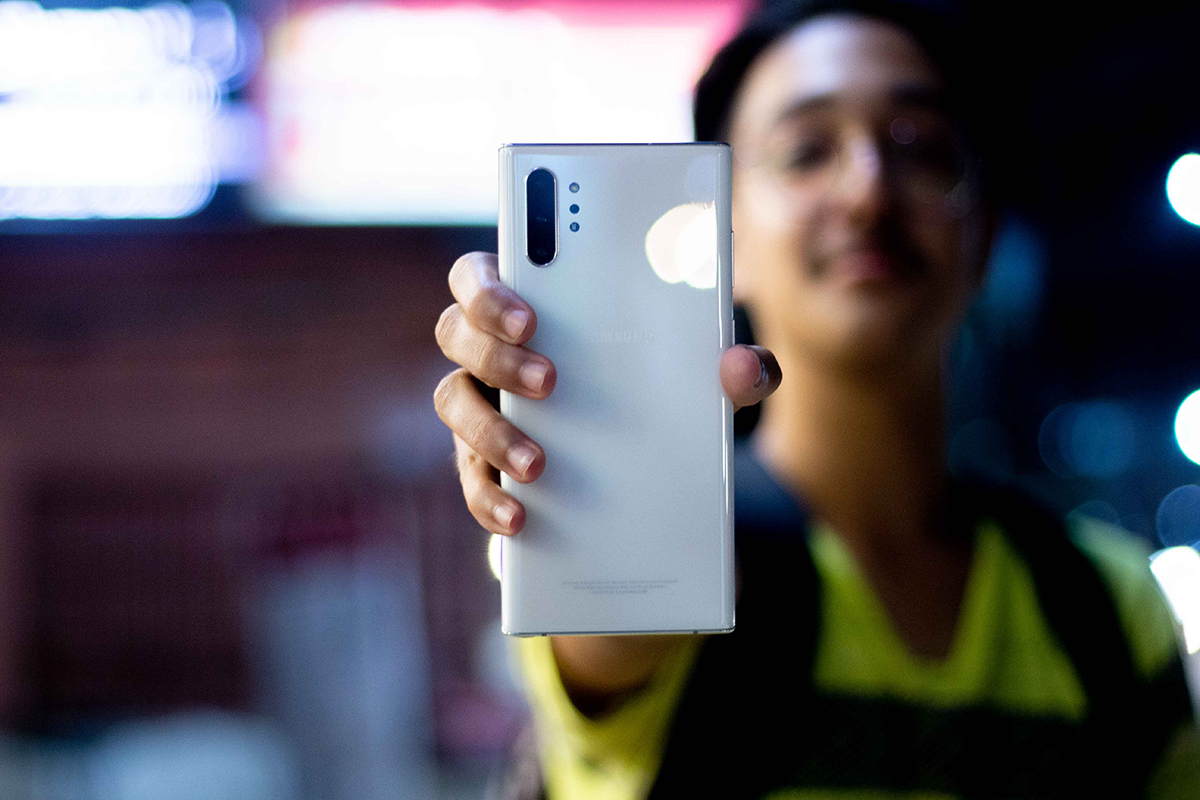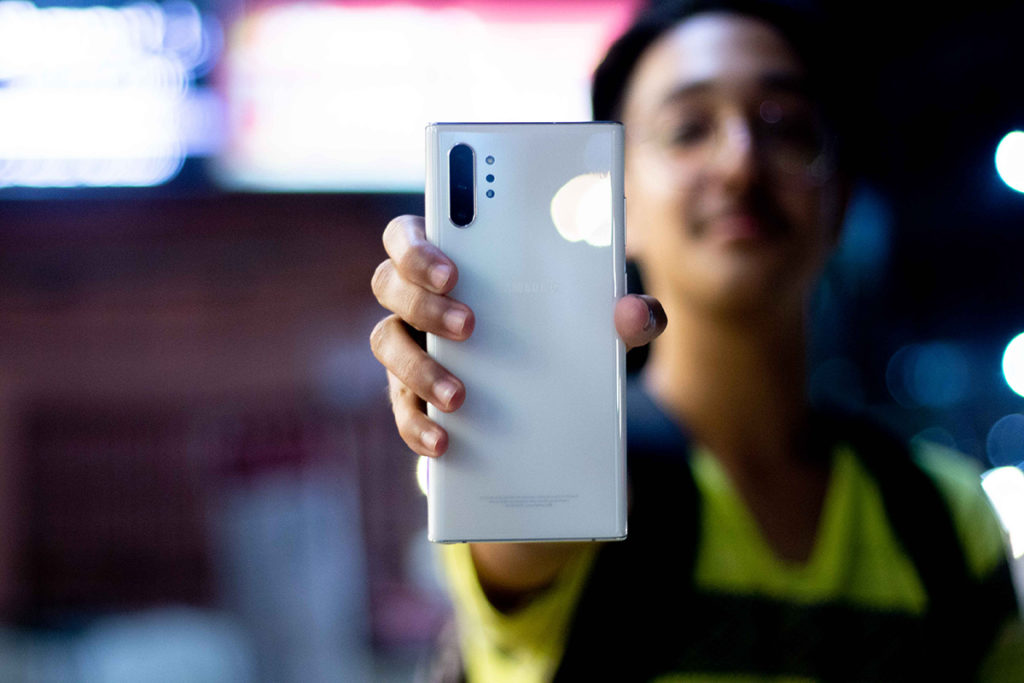 Talking about the display, it is one of the best that I have used. I have always loved Samsung's AMOLED panels as for their rich contrast and vivid colors, and the Note 10 Plus' 1440×3040 panel is no exception. If you're a media junkie you're going to love this display as the video-watching experience on this device is more than great. And I, in particular, love the blacks on this phone. The AMOLED screen does a great job of producing breathtaking colors in its 6.8-inch display, and the only thing left to be desired would be the 90Hz refresh rate seen on the likes of the OnePlus 7 Pro.
The bezels on this phone are like its headphone jack: non-existent (well, almost). But, on a serious note, the phone hardly has any bezels making it a true joy to look at from the front. Everything put aside, the button placement needs a little getting used to though. The buttons are placed on the left-hand side, and if you have tiny hands (like me) it can be a real struggle to reach them.
As I offhandedly mentioned earlier, the Galaxy Note 10 Plus has no headphone jack. And to say the least, the precedent set by Apple has finally been adopted by Samsung to make room for a bigger battery (we'll talk more on that later). Well, in all honesty, we all knew this day would be coming as flagships from all smartphone manufacturers have stopped implementing their headphone jack. Though it is a bit hypocritical for Samsung to do this because of the way they ridiculed Apple with their marketing campaigns. But well, you know what they say; if you can't beat em', join em'.
Performance & UI
The Samsung Galaxy Note 10 Plus delivers a great performance. Powered by the much compelling Exynos 9825 paired with the 12GB of RAM & 256GB of internal storage, the device is the most powerful released by Samsung yet. The phone has no lags and doesn't stutter as it handles all the tasks thrown at it with much ease.
To put things into perspective, Note 10 Plus is fast, really fast. And every graphics-heavy games, even PUBG — that I played during the review process — ran without an issue at the highest settings possible. On the positive side, even after nearly 1 hour of extensive gaming the phone had no signs of heating.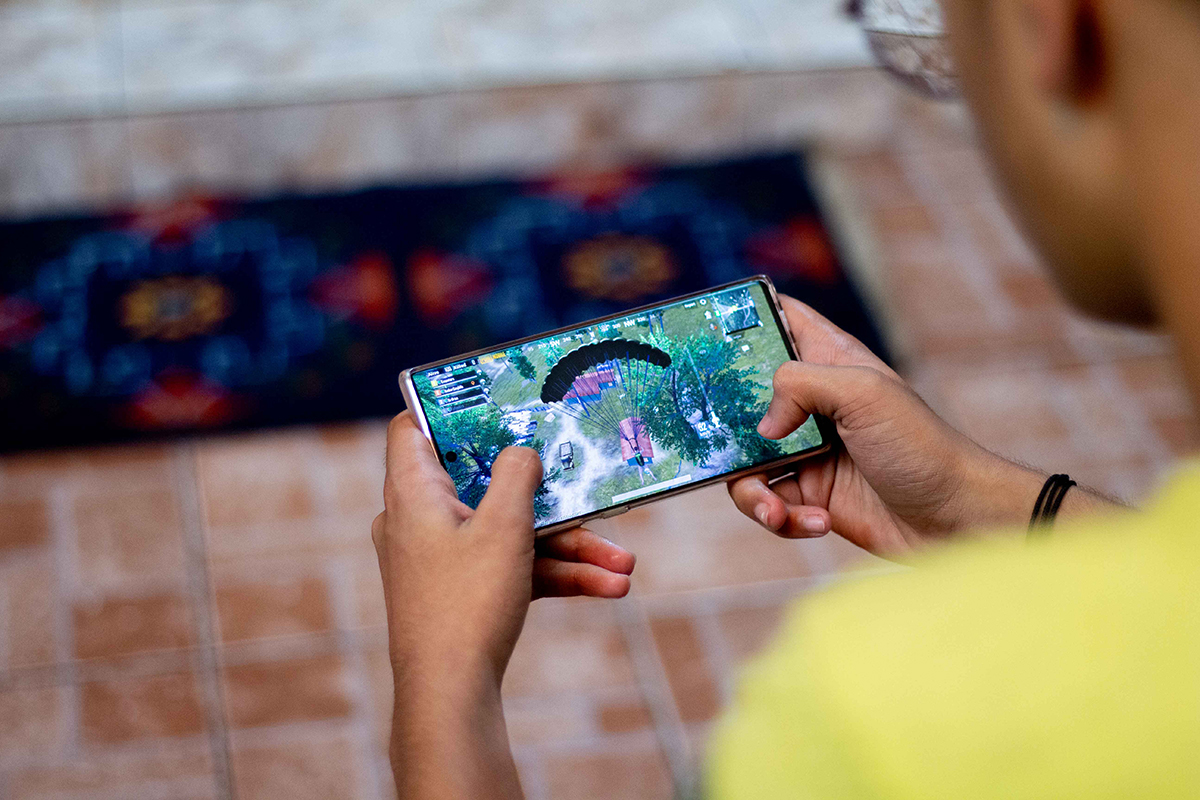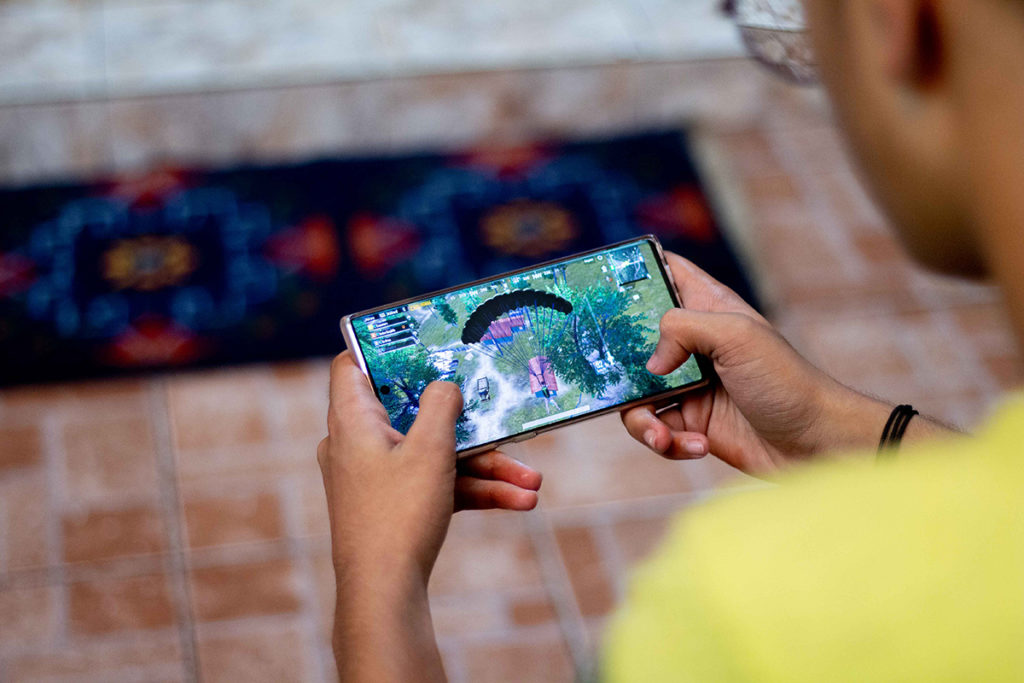 The Galaxy Note 10 Plus' One UI, which sits on top of Android 9 Pie, is possibly as clean it can get for a custom Android skin. The interface is now standard among all Samsung phones and is easy to understand even to newer users.
Out of all, the one thing that the device bothered me a bit is when I tried to turn off/restart the device. Just holding the power button doesn't turn off the Note 10 Plus. In order to turn off the phone or restart it one has to hold both the power button and the volume rockers together. Instead, the easier option is to tap the power button icon located on the navigation bar. Holding the power button alone wakes up Bixby (Samsung's AI assistant) which tends to be quite annoying as accidental presses can lead to unintended Bixby launches; which although can be mapped or turned off in the settings. The power button combined with the Bixby button has just added another level of complication to the phone's otherwise great UI.
Camera
Talking about its camera Samsung threw everything into Note 10 Plus' camera hardware. It has a total of 4 rear-mounted cameras. A 12-megapixel main telephoto lens with a variable f/1.5 to f/2.4 aperture and optical image stabilization. It also consists of a wide-angle 12-megapixel f/2.4 aperture and an ultra-wide-angle 16-megapixel camera with f/2.2 aperture. There is also a depth vision camera with an f/1.4 aperture. The back also consists of a time-of-flight sensor which helps to capture better portrait shots and also helps in capturing live videos.
Daylight Shots
Taking pictures on this phone is a pretty good experience and the versatility that the cameras offer is great. I rarely found myself needing to backup or close in to take pictures even in the tightest of spots. Talking about other camera features the night mode is on the 'Okay' side. It is nothing sort of mind-blowing but it doesn't disappoint either. The night mode does help to reduce the noise of the photo but in expense for the picture's details, as the pictures do get a bit smudgy. The color reproduction of the pictures in the Note 10 Plus also feels a bit off as they sometimes appear washed out.
Night Shots
Talking about the videos, it is where the camera really shines in my opinion. The edge detection given by the phone is pretty good and it has a pretty good depth of field, but, of course, it is not perfect as you will find some errors every now and then. The phone also shoots videos in 4K at 60fps and with the other features like super slow-motion and AR doodles make it a fun phone to shoot videos with. The zoom-in-mic feature given by the phone is actually pretty cool as it directs the microphone towards the subject that we're zooming at and phases out other noises.
Wideangle Shots
There is also a single front 10-megapixel camera with f/2.2 aperture. The camera is not half bad as you can get decent selfies from it but, the camera struggles in low light situations and ends up having a few noises here and there.
If you're looking for a detailed camera review of Galaxy Note 10 Plus you can check our video.
The S-Pen: Handwriting to text & AR Doodle
The Note is incomplete without the S-Pen, as it is what distinguishes the Note series from all other phones after all. Though this time around, there are a lot of gimmicks around it. I personally have never really been a big fan of the S-Pen as I don't really use the Note functions extensively. However, if you've been using these functions regularly in the previous iterations of the phone, I think you will enjoy this one as well.
Talking about the features, there are a lot of air gestures that come with the S-Pen like making a circular motion to zoom in and a few more. Most of these features are cool to have but aren't realistically functional. Third-party apps can also make use of these gestures, but I doubt that there will be many applications made to incorporate these gestures. One of the features of the S-Pen that I have found myself using quite often would be the AR Doodle feature, which allows you to draw in 3D. The phone makes use of its depth sensor here and I have to tell you, it is quite fun to doodle on your friend's faces over AR.
The handwriting to text feature on this phone is actually pretty good, and though my handwriting looks like a bird's poop, this phone does a decent job at converting them to text, which is pretty darn amazing. All in all, pretty decent but not a huge leap over last year's S-Pen.
Battery
The phone consists of a rather large 4,300mAh battery, albeit that it cannot be listed as the best performing battery that we've seen. On a regular day of use; consisting of taking pictures, surfing the web, messaging, watching videos and some streaming, I found myself coming home to around 20% of the battery, which isn't at all impressive through any means, as the bright AMOLED panel takes up much of its juice, though your mileage may vary.
However, you shouldn't be in agony about it. Even if it runs out of battery, the phone charges lighting fast, from around 30% in 15 minutes with the out-of-the-box 25-watt charger. You can charge the phone even faster with a 45-watt charger which sadly doesn't come with the box and needs to be bought separately.
Verdict
As the major cons of the phone being only the gimmicky-ness of the S-Pen air gestures and weird button placement, the rest of the features are more than enough to make the phone one of the great at this price point, i.e. NPR 135,000. If you're looking for Samsung's top-notch device I would definitely prefer the Samsung Galaxy Note 10 Plus as it is a great addition to Samsung's ever-growing Note series.